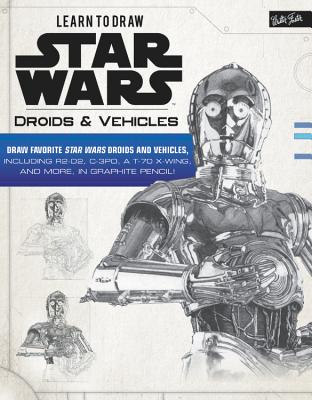 Learn to Draw Star Wars (Paperback)
Droids & Vehicles: Draw favorite Star Wars droids and vehicles, including R2-D2, C-3PO, a T-70 X-Wing, and more, in graphite pencil (Licensed Learn to Draw)
Walter Foster Publishing, 9781633226852, 128pp.
Publication Date: November 6, 2018
Other Editions of This Title:
Paperback (11/6/2018)
Paperback (7/10/2017)
Paperback (10/10/2017)
* Individual store prices may vary.
Description
With Learn to Draw Star Wars: Droids & Vehicles, you can learn how to re-create some of the most recognizable machines in the galaxy: the protocol droid C-3PO, the astromech droid BB-8, the Millennium Falcon, and more.

Inside this 128-page drawing guide, you will find step-by-step instruction on how to draw Star Wars droids, spaceships, and land transport vehicles of all shapes and sizes. Lucasfilm collaborator and professional artist Russell Walks provides easy-to-follow instructions, insightful character notes, drawing tips, and memorable moments from the films. After a brief introduction to drawing tools and materials, basic pencil techniques, shading techniques, and how to depict different textures, the book jumps right into step-by-step drawing projects. See how each drawing lesson begins with basic shapes, with each new step building upon the last, eventually progressing to a finished fine art piece.

Included in Learn to Draw Star Wars: Droids & Vehicles are drawing projects for K-2SO, C-3PO, R2-D2, Luke's X-34 Landspeeder, the Millennium Falcon, an AT-AT walker, an Imperial Probe Droid, BB-8, a First Order TIE Fighter, and a Resistance T-70 X-Wing. You can also take a closer look along with Russell Walks at how to draw Star Wars technology, R2-D2's different tools, details of the Millennium Falcon, and the different pilot's helmets shown throughout the saga.

So grab some paper and a pencil, and get ready for your artistic journey through the Star Wars universe!
About the Author
Founded in 1922 by artist Walter T. Foster, Walter Foster Publishing, an imprint of The Quarto Group, is the world's leading publisher of instructional art books and kits for adults and children. Walter Foster's diverse selection of drawing, painting, doodling, and mixed media art books and kits have created a foundation for millions of beginning, intermediate, and advanced artists looking to hone their talents, learn new techniques, and discover different mediums. From color mixing recipes and art tools to the fundamentals of drawing and painting, Walter Foster's books cover a wide variety of topics and mediums across a broad spectrum of traditional and eclectic subject matter for artists of all skill levels. Walter Foster Publishing continues to expand its offerings every year, producing cutting-edge art-instruction books and kits for a worldwide audience.