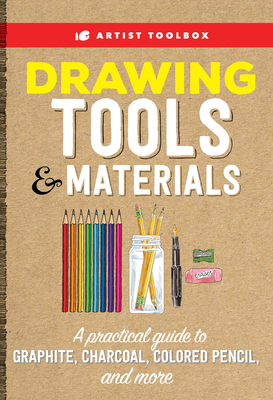 Artist Toolbox (Paperback)
Drawing Tools & Materials: A practical guide to graphite, charcoal, colored pencil, and more
Walter Foster Publishing, 9781633226975, 112pp.
Publication Date: March 5, 2019
* Individual store prices may vary.
Description
Artist Toolbox: Drawing Tools & Materials covers all drawing media, from graphite and colored pencils to crayons and pastels, as well as their uses and interactions with traditional drawing surfaces. Learn how to work with specific drawing tools, and then use them to create your own artwork.

Artist Toolbox: Drawing Tools & Materials first discusses how to create a drawing workspace—in particular, ensuring proper lighting and storage. This guide then details all of the most popular drawing media: the differences between and advantages of each, their purposes, and the effects that each tool can create.

The book covers every drawing tool, including all pencil grades, flat sketching pencils, charcoal and vine charcoal, white charcoal, conte crayons, conte pencils, colored pencils, and pastel. Surfaces and supports are discussed as well to provide a thorough introduction to everything you need to learn to draw. Step-by-step drawing projects round out the book.

Artist Toolbox: Drawing Tools & Materials provides tips, techniques, clear instructions, beautiful artwork, and detailed demonstrations for a comprehensive look at drawing. This book will make an expert out of anyone who wants to learn this classic technique.

The Artist Toolbox series includes useful, practical reference guides designed for beginning artists and art hobbyists interested in fully understanding the focus and function of essential art tools of the trade.
About the Author
Founded in 1922 by artist Walter T. Foster, Walter Foster Publishing, an imprint of The Quarto Group, is the world's leading publisher of instructional art books and kits for adults and children. Walter Foster's diverse selection of drawing, painting, doodling, and mixed media art books and kits have created a foundation for millions of beginning, intermediate, and advanced artists looking to hone their talents, learn new techniques, and discover different mediums. From color mixing recipes and art tools to the fundamentals of drawing and painting, Walter Foster's books cover a wide variety of topics and mediums across a broad spectrum of traditional and eclectic subject matter for artists of all skill levels. Walter Foster Publishing continues to expand its offerings every year, producing cutting-edge art-instruction books and kits for a worldwide audience.
Chelsea Ward is an art teacher and maker of one-of-a-kind creations. Since graduating from the University of Texas at Austin with a BFA in studio art, she has been a Jane of all trades. She currently juggles her small business Sketchy Notions, an Etsy shop of custom treasures; teaching art lessons through Arts Outreach; co-hosting Bellissima Art Retreats with Gypsy Studios in Tuscany; and her role as the head chalk scribbler with Chalk by Chels. She is also the artist behind Cursive Cursing, a line of swear-word greeting cards.

Chelsea has worked with a variety of clients, including Santa Barbara Popcorn Company, Solvang Coffee Company, and J Ludlow Vineyard. Her work has been featured by magazines Elite Wedding Collection and The Knot, among others. Chelsea is the author of Modern Drawing and Your Year in Art, both from Walter Foster Publishing. She lives in Los Olivos, California. Learn more at www.chelseawardart.com.