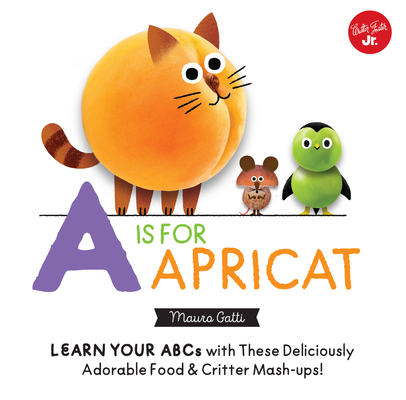 Little Concepts (Board book)
A is for Apricat: Learn Your ABCs with These Deliciously Adorable Food & Critter Mash-Ups!
Walter Foster Jr, 9781633227224, 28pp.
Publication Date: September 3, 2019
* Individual store prices may vary.
Description
Learn the ABCs through cute, quirky mash-ups of animals and food, from Apricat to Zebrussels Sprout!

A is for Apricat is a fun, creative way for kids to learn their ABCs. Combining photos of fresh fruits and vegetables with cute illustrations of animals, illustrator Mauro Gatti has created a whole new kind of critter! The Apricat has the round, fuzzy body of a real apricot, with the adorable whiskers and face of a kitten. And the Turkale may have the head and neck of a turkey, but its body is fresh and green.

Each page features a letter with a new fruit or vegetable creature, paired with simple text to help kids learn the letter, the animal, and the food. A food facts page at the back explains the health benefits of each featured food with playful, kid-geared language.

Promoting healthy eating and imaginative thinking, this unique, lighthearted take on a basic concept will be enjoyed by kids and parents alike.

The Little Concepts series helps young readers learn their ABCs with adorable illustrations featuring unique animals, colors, languages, and even healthy foods. From A to Z, learning the alphabet (even in Spanish and French!) has never been so surprising and engaging.
About the Author
Mauro Gatti is an Italian illustrator and designer based in Los Angeles. Humorous, sharp, and creative, Gatti's iconic, retro-inspired work has been globally recognized. Over the last 10 years, he has been leading creative teams of designers, working on projects in the new media, design, and motion graphics fields, focusing in particular on the mobile arena (storytelling and game design). He has developed work for MTV, Google, Disney, Nike, Diesel, Barilla, Vans, Yahoo!, Sky TV, Red Bull, and Vogue. From the illustrations he has produced for advertising, magazines, album sleeves, books, mobile apps, and fashion, he is known as an illustrator whose productions capture the comical side of life in a simple, yet memorable, way. Visit his website at www.maurogatti.com.