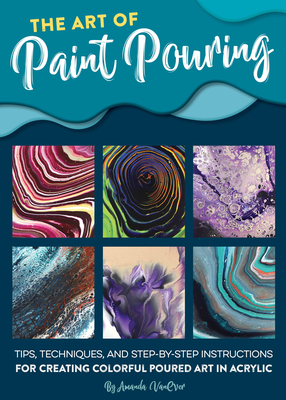 The Art of Paint Pouring (Paperback)
Tips, techniques, and step-by-step instructions for creating colorful poured art in acrylic
Walter Foster Publishing, 9781633227378, 128pp.
Publication Date: May 21, 2019
* Individual store prices may vary.
Description
Learn the creative, innovative technique of making art by pouring paint with The Art of Paint Pouring! Featuring easy step-by-step projects, practical tips, and beautiful art from an established paint-pouring expert, this book will help artists of any skill level make colorful, textured art by pouring acrylic paint onto a canvas.
 
There are many techniques for making poured art, and this book details them all. You will learn to swipe, pour, and more using the manyhow-to projects provided in this book. Also included are chapters on the following: tools and materials, including affordable options for items that will help you create poured art; basic color theory and how to choose paint colors that will create pleasing mixtures; eye-catching full-page artwork; tips for creating the paint consistency that you want; and instructions for keeping your work area clean, even while working with a potentially messy technique.
 
Written and illustrated by a well-recognized paint-pouring artist, The Art of Paint Pouring is a comprehensive reference that eliminates the need to search online for multiple videos that you would continually have to pause and re-watch. If you are new to paint pouring, you will love the beginners' tips and instructions that allow anyone to master this contemporary craft.

Start creating stunning works of poured art with The Art of Paint Pouring, and then check out The Art of Paint Pouring: Swipe, Swirl & Spin, publishing in May 2020, to refresh your paint-pouring skills and learn new techniques!
About the Author
Amanda VanEver is a self-taught artist; a librarian in Dayton, Nevada; and the author of The Art of Paint Pouring and The Art of Paint Pouring: Swipe, Swirl & Spin (both from Walter Foster Publishing). Amanda enjoys the versatility of acrylic paint and the vast array of techniques that can be used with fluid art. She credits her abilities to the artists willing to share their tricks, tips, and techniques for different styles of fluid acrylic painting. She learned to created poured art using Facebook groups and YouTube videos. Every week, Amanda films her processes and answers questions on her YouTube channel, Amanda's Designs. She sells her artwork locally in Carson City, Nevada, as well as through her Etsy shop.
 
Praise For The Art of Paint Pouring: Tips, techniques, and step-by-step instructions for creating colorful poured art in acrylic…
Artist Amanda VanEver starts with the basics and proceeds to demonstrate 11 acrylic pouring techniques, yielding striking visual textures and abstract patterns.
- Artists Magazine