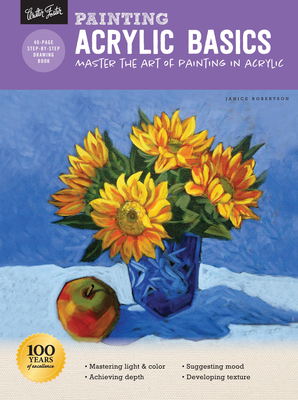 Painting (Paperback)
Acrylic Basics: Master the art of painting in acrylic (How to Draw & Paint)
Walter Foster Publishing, 9781633227910, 40pp.
Publication Date: May 7, 2019
* Individual store prices may vary.
Description
Learn everything you need to know to get started with acrylic painting.
 
From rendering light and shadow to creating realism through depth and texture, aspiring artists will discover the basics of acrylic painting through engaging, inspirational lessons and useful artist's tips. Beginning artists will find helpful information about selecting the right paintbrushes, supports, and paints to get started in acrylic painting. Additionally, artists will discover practical tips for using basic and special acrylic painting techniques to render textures, suggest dimension, and create effects.
 
Featuring the artwork of Janice Robertson, Acrylic Basics includes a variety of easy-to-follow, step-by-step projects that are approachable for the beginning artist, including dynamic landscapes, colorful still life, and sweeping vistas.
 
Designed for beginners, the How to Draw & Paint series offers an easy-to-follow guide that introduces artists to basic tools and materials and includes simple step-by-step lessons for a variety of projects suitable for the aspiring artist. With comprehensive instruction, plenty of artist tips and tricks, and beautiful artwork to inspire, Acrylic Basics is the perfect resource for any aspiring acrylic painter.
About the Author
Janice Robertson has received many awards, including three bronze medals in the Federation of Canadian Artists 2000 Signature Members show, the Margaret and William Foley Award at the 2001 Adirondacks National Exhibition of Watercolors in New York, and the Foreign Award in the 2004 Houston Watercolor Society exhibition. Janice holds senior Signature membership in the Federation of Canadian Artists, Landscape Artists International, the Northwest Watercolor Society, and Artists for Conservation. She is a contributing author to Walter Foster's The Art of Painting in Acrylic.