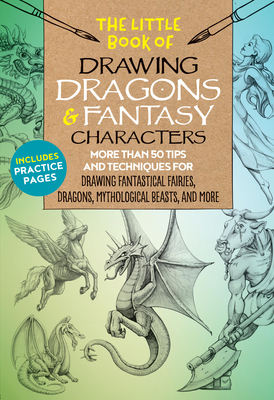 The Little Book of Drawing Dragons & Fantasy Characters
More than 50 tips and techniques for drawing fantastical fairies, dragons, mythological beasts, and more (The Little Book of ...)
Paperback

* Individual store prices may vary.
Praise For The Little Book of Drawing Dragons & Fantasy Characters: More than 50 tips and techniques for drawing fantastical fairies, dragons, mythological beasts, and more (The Little Book of ...)…
The Little Book of Drawing Dragons & Fantasy Characters: More than 50 Tips and Techniques for Drawing Fantastical Fairies, Dragons, Mythological Beasts, and More lives up to its title with instructions, methodical examples, guidelines, and blank "practice pages" that the reader can use to hone their artistic skills. A wonderful supplementary resource for budding artists of all ages and backgrounds, it also makes an excellent gift!
- Midwest Book Review
—
-
Walter Foster Publishing, 9781633228061, 128pp.
Publication Date: September 3, 2019
About the Author
Michael Dobrzycki is an accomplished painter, carpenter, puppet maker, and sketch artist whose work has been featured in more than a dozen children's books and small press publications over the last few years. In 2001, Michael was inducted into the Disneyland Entertainment Hall of Fame. He received a master's degree in illustration from California State University, Fullerton, and holds bachelor's degrees in both art and history from Whittier College. He is currently a visiting professor at Whittier College. Michael lives in Whittier, California.
Kythera of Anevern is a self-taught artist who revels in the strange and unusual. She has designed a handful of logos for small businesses and contributed illustrations for various role-playing game books. She also displays her work at fantasy and animation conventions, including the annual Gathering of the Gargoyles, where she has won many awards. She received her BFA in intermedia from ArizonaStateUniversity and currentlylives in Los Angeles.
Bob Berry has been an artist, illustrator, and character and graphic designer for more than 15 years. While the mainstay of Bob Berry's work is for children's publishing and textbooks, Bob has also provided art and illustration for CDs, children's games, toy packaging, and more. Visit bobberryillustration.com.
Cynthia Knox is an award-winning artist who specializes in works of traditional realism. She has authored 15 art-instructional books and teaches workshops in the United States, internationally, and on cruises. She also teaches classes online with Bluprint. Cynthia is a signature member of the Colored Pencil Society of America, a juried member of The International Guild of Realism, and a commissioned portrait artist. Her artwork is in shows and private collections and on her website at www.cynthiaknox.com. Cynthia lives in Upstate New York.
 
Meredith Dillman is an artist and illustrator living in Minnesota. Since childhood, she has enjoyed painting fairies, woodland creatures, and other fantasy and medieval themes in watercolor. Meredith graduated from Minnesota State University with a BFA in illustration and has been published in role-playing games, the books Watercolor Fairies, Fairy Motifs, How to Draw and Paint Fairies, and metaphysical magazines and journals.