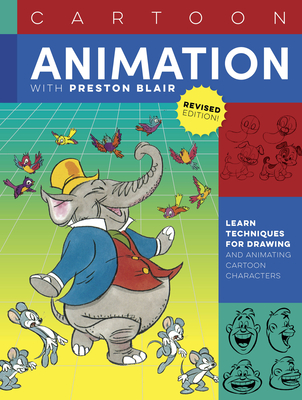 Cartoon Animation with Preston Blair (Paperback)
Learn the techniques for drawing and animating cartoon characters (Collector's Series)
Walter Foster Publishing, 9781633228900, 128pp.
Publication Date: November 3, 2020
* Individual store prices may vary.
Description
In Cartoon Animation with Preston Blair, acclaimed cartoon animator Preston Blair shares his vast practical knowledge to explain and demonstrate the many techniques of cartoon animation. By following his lessons, you can make any character—person, animal, or object—come to life through animated movement!

Animation is the process of drawing a character in successive positions to create lifelike movement. Animators bring life to their drawings, making the viewer believe that the drawings actually think and have feelings. While animators must first know how to draw, the animation process involves much more than just good drawing skills. This book teaches the knowledge and skills animators must have, including:
How to construct original cartoon characters by developing a character's shape, personality, features, and mannerisms
How to animate movements such as running, walking, dancing, posing, skipping, and more
How to create realistic-looking mouth movements during dialogue, as well as body movements and  facial expressions while the character is speaking
The finer points of animating a character, including drawing key character poses and in-betweens
Full of expert advice from animation pioneer Preston Blair, and packed with helpful drawings and diagrams,Cartoon Animation with Preston Blair is a book no animation enthusiast should be without.


The Collector's Series offers a broad range of projects across a variety of mediums and genres, such as drawing, oil, acrylic, watercolor, cartooning, calligraphy, and others. This series is suitable for beginning to intermediate artists, and each title features in-depth instruction about how to work with the tools of the trade, master techniques, and use newfound skills in practical application. 
About the Author
Preston Blair (1910–1995) was a native Californian who studied art at the Otis Art Institute, as well as illustration under Pruett Carter at Chouinard Art Institute (now California Institute of the Arts). As a member of the California Watercolor Society and the American Watercolor Society in New York, he exhibited work all over the country. Preston was a fine artist during the early days of full-length feature animation. For the Disney production Fantasia, he designed and animated the hippos in "The Dance of the Hours." He also animated Mickey Mouse in The Sorcerer's Apprentice, portions of the classic film Pinocchio, and the famous scene in Bambi when the owl talks about love in his "twitterpated" speech. At MGM, Preston directed Barney Bear short films, and he was well known as the designer and animator of one of Tex Avery's epic shorts Red Hot Riding Hood. Preston later moved to Connecticut, where he produced television commercials, educational films, and cartoons, including TheFlintstones. Before he passed away, he worked as an inventor of interactive TV programs, such as teaching reading through animation and virtual reality games featuring full-sized animated opponents.