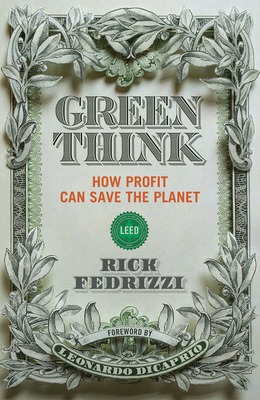 Greenthink (Paperback)
How Profit Saves the Planet
Disruption Books, 9781633310056, 228pp.
Publication Date: November 4, 2015
* Individual store prices may vary.
Description
2016 IPPY Gold Medal Winner Rick Fedrizzi is the most important environmentalist you've never heard of-and "Greenthink" is his manifesto.
A former Fortune 50 manufacturing executive, Fedrizzi became a leader of the modern environmental movement when he played an instrumental role in creating the most important and far-reaching sustainability movement of our time: the green building movement.
Today, Fedrizzi's work and ideas are transforming the real estate industry, one of the largest sectors of the global economy, and one of the largest contributors to climate change. As a co-founder of the U.S. Green Building Council, Fedrizzi oversaw the creation of LEED-Leadership in Energy & Environmental Design-which has certified more than four billion square feet of sustainable real estate worldwide. According to Paul Hawken, a legendary environmentalist, "USGBC may have had a greater impact than any other single organization in the world on materials saved, toxins eliminated, greenhouse gases avoided, and human health enhanced."
But that's only half the story: the green building industry has also sparked billions of dollars of economic impact and created millions of jobs. This stunning revelation-that sustainability is profitable-is at the heart of Fedrizzi's call to action in "Greenthink."
For decades, environmentalists and the private sector have been at odds. Activists have decried the impact of industry on the environment. Business leaders, meanwhile, resent environmentalists for "job-killing regulations." But in "Greenthink," Fedrizzi turns conventional wisdom on its head by showing how profit can save the planet, and how sustainability is the biggest business opportunity of the 21st century.
With the urgency of Al Gore's "An Inconvenient Truth," the illuminating stories of Tom Friedman's "The Lexus and the Olive Tree," and the insight of Malcolm Gladwell's "The Tipping Point," Fedrizzi calls the reader's attention to hidden yet fundamental truths about our environment, our society, and our economy. His message is as controversial as it is clear: leverage the profit motive to save the world-and its humans-from environmental catastrophe.
With a heartfelt foreword by actor and activist Leonardo DiCaprio, "Greenthink" is a must-read for anyone who cares about the future of our environment, or the future of our economy. Because, in Fedrizzi's words, "they will share the same fate.
About the Author
Since cofounding the U.S. Green Building Council in 1993 and serving as its CEO since 2004, Rick Fedrizzi has helped create the global movement for sustainable buildings and communities. He oversaw the creation of LEED (Leadership in Energy and Environmental Design), the world's premier green building program, which certifies almost two million square feet of building space per day in more than 150 countries and has accredited nearly 200,000 LEED professionals worldwide.

Rick is also CEO of Green Business Certification Inc. and the chair of the Global Real Estate Sustainability Benchmark. Additionally, he serves on numerous boards and advisory committees for diverse organizations, including Harvard University's School of Public Health; the Clinton Global Initiative; Bank of America; and the World Green Building Council, which he chaired from 2011 to 2013.

Rick was previously an executive with United Technologies' Carrier Corporation for twenty-five years. A native of Syracuse, New York, he holds a BA from Le Moyne College and an MBA from Syracuse University. Rick lives with his wife, Cathy, a public school teacher and lifelong educator, in Syracuse.