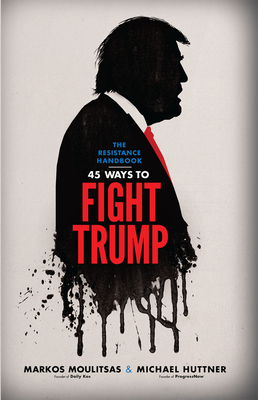 The Resistance Handbook (Paperback)
45 Ways to Fight Trump
Disruption Books, 9781633310179, 264pp.
Publication Date: June 1, 2017
* Individual store prices may vary.
Description
It's time to fight back.

In November 2016, Donald Trump lost the national popular vote—by a lot!—yet managed to stumble into the White House. Trump's presidency is not just an indictment of our political system—it's an affront to our core values as a nation. How could such an ignorant autocratic buffoon claim to represent such a diverse, open, and free society?

A majority of Americans have been shocked, dismayed, and disgusted—for good reason—by Trump's actions since he took office. But we aren't taking it lying down. Across the United States, the Resistance is growing, as many thousands of patriotic Americans lead the charge against the corrupt and traitorous Trump regime—and the Republican Party that is enabling him.

Markos Moulitsas, founder of Daily Kos, and Michael Huttner, founder of ProgressNow, have built two of the nation's largest advocacy organizations. Now, in The Resistance Handbook: 45 Ways to Fight Trump, they offer a much-needed guide to fighting Trump and building a better, more just, and more equitable America.

This book is for all Americans who consider themselves part of the Resistance—people like us who wake up every day and think, "What more can I do to stop Trump?" The book offers 45 ways to stop the 45th president of the United States in his tracks, including ways to:

• Protect our culture from the degrading effects of Trump's presidency, which rewarded bullying, sexism, racism, and xenophobia.
• Protect our communities from Trump's personal attacks, which he and his Republican friends target at women, people of color, youth, immigrants, Jewish people, Muslims, and others.
• Fight for our values and the issues that define us—in the face of a four-year assault on racial justice, income equality, the environment, women's rights, education, and worker's rights.
• Build the infrastructure this movement needs (and sorely lacks), including the capacity to register and get out the vote for the 97 million Americans who didn't cast a ballot in 2016; to find, train and promote tomorrow's leaders; and to develop the media organizations that will report the facts and promote our values and candidates.
About the Author
Markos Moulitsas is the founder and publisher of Daily Kos, the largest progressive community blog in the United States. He was named of of the 100 Most Influential Hispanics in the world by People en Espanol, is third in Forbes's Web Celeb 25 rankings, and was listed twenty-sixth in PC World's list of the "Most Important Peolple on the Web."

Michael Huttner is a corporate and political strategist, attorney and entrepreneur. He is the current political director and immediate past CEO of Fenton, the global social change agency. He has helped launch over forty different political organizations and has led communications "war rooms" for political and private clients. He is also the founder of ProgressNow, a network of state-based communications organizations that moves people to action through communications and digital media.