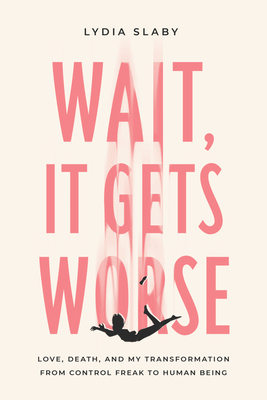 Wait, It Gets Worse
Love, Death, and My Transformation from Control Freak to Human Being
Paperback

* Individual store prices may vary.
Description
Lydia Slaby was 33 years old and had everything she believed would make her happy: three fancy private school degrees, a successful husband who was in the inner circles of Barack Obama's presidential campaign, a high-paying job as an attorney—even an enviable yoga practice. But under the surface Lydia's life was in free fall. Her new marriage was one argument after another, she had a job she never wanted, and for some reason she had begun to rapidly lose weight, eventually turning a strange shade of yellowish-green. When she made a doctor's appointment to talk about the toll of extreme stress, she was instead admitted with a diagnosis of lymphoma. As a cancer survivor, Lydia tries to piece back together her marriage, her career, and her own worth. It's an imperfect rebirth, but perfection is something she must abandon if she is to find a new, calm, healthy life.
Praise For Wait, It Gets Worse: Love, Death, and My Transformation from Control Freak to Human Being…
"Tender, funny, and deeply uplifting, WAIT, IT GETS WORSE is about more than facing the unexpected; it's an everywoman's guide to living a life that matters." —Arianna Huffington, Founder & CEO, Thrive Global

"It was Lydia's GI Jane buzz cut and soldier spirit that captivated me when we first met—and she's just as captivating on the page. WAIT, IT GETS WORSE is a book for discovering, for learning to let go, for laughing and crying and laughing again. It's a book for anyone who's ever asked, 'Am I enough?' And it's a book that answers, 'Yes. Yes you are.'" —Sophia Bush, Actress and Activist

"Lydia Slaby shows that the power to change is within every one of us—once we give up the illusion of control. We don't control much of anything in life, but we do control how we react to change. You'll cry, you'll laugh, you'll cheer her on, but mostly you'll realize what it means to live a life fully in control of your true self. Lydia's story points the way." —Beth Comstock, author of IMAGINE IT FORWARD & former Vice Chair, GE

"This powerful memoir shows us a path for potential transformation in our own lives and I am grateful that she has shared her journey with the hope of impacting others. The optimism that jumps off the page is infectious." —Doug Ulman, President and CEO of Pelotonia and former President and CEO of LiveSTRONG

"WAIT, IT GETS WORSE is one of those stranger-than-fiction stories that keeps readers on the edge of their seats. This perfectly-paced, well-told memoir of a journey no one wants to take is filled with fierce honesty, humor, and exuberance, delivering hard-won wisdom that uplifts and inspires hope." —Susan Wiggs, #1 New York Times bestselling author
Disruption Books, 9781633310285, 276pp.
Publication Date: March 19, 2019
About the Author
Lydia Slaby is an advocate, speaker, and writer focused on empowering people, communities, and organizations faced with daunting change. She is an advisor to Chicago's 2nd Story; serves on the board of I AM THAT GIRL, an organization that helps young women around the world take ownership of their self-worth; and was a board member of Critical Mass: The Young Adult Cancer Alliance. She lives in Rhinebeck, New York, with her husband Michael Slaby and their two beautiful cats. Wait, It Gets Worse is her first book.