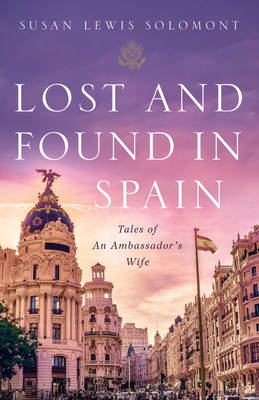 Lost and Found In Spain
Tales of An Ambassador's Wife
Paperback

* Individual store prices may vary.
Description
When her husband was appointed by President Barack Obama to be U.S. Ambassador to Spain and Andorra, Susan Solomont uprooted herself. She left her career, her friends and family, and a life she loved to join her husband for a three-and-a-half-year tour overseas. Part memoir and part travelogue, Solomont learns the rules of a diplomatic household; goes on a culinary adventure with some of Spain's greatest chefs; finds her place in the Madrid Jewish community; and discovers her own voice to create new meaning in her role as a spouse, a community member, and a 21st century woman.
Praise For Lost and Found In Spain: Tales of An Ambassador's Wife…
"In these pages, Susan Solomont has shared an exhilarating story of the challenges and the special joys of representing America abroad, which will inspire, educate and delight. This powerful portrait of perseverance and courage is a great gift as we navigate new changes and challenges in our life's journey." —Nancy Pelosi, Speaker of the House

"Susan shows us with her memories of traveling around my homeland the importance of cultural and culinary diplomacy—that one of the best ways to understand and connect with a country and people is through their food." —José Andrés, Chef

"In Lost and Found in Spain, Susan Solomont makes the patriotic expatriate life her own and reminds us that an Ambassadorship is a family calling." —John Kerry, 68th US Secretary of State

"A vivid, honest, and loving account of life behind the scenes in one of the most coveted and dazzling institutions that represents the United States. That Susan and Alan Solomont quickly got labeled 'Team Solomont' among the diplomatic circles in town is a testimony to Susan's brilliance, easy charm, and delightful wit, which find ample expression in her book." —H.E. Ana de Palacio, Former Minister of Foreign Affairs of Spain

"In Lost and Found in Spain, Susan Lewis Solomont provides the rare gift of revealing the world of diplomacy. She takes us behind the walls of the US Embassy in Spain and we get a portrayal of life through the lens of an entrepreneurial woman. She offers an in-depth tour into the world of protocol and the role that spouses make for themselves in this mysterious yet intriguing world. And did I mention the food? That alone is worth the ride—but there's far more in this fascinating book." —Randy Susan Meyers, Author

"Useful reading for those in a similar position, whether in the public or private sector, and a strong case for better defining the roles of diplomatic spouses, to say nothing of paying them for their work." —Kirkus Reviews 

"An inherently interesting memoir that is exceptional for its candor and retrospective informational insights, Lost and Found In Spain: Tales of An Ambassador's Wife will prove to be an immediate and enduringly popular addition to both community and academic library Contemporary American Biography collections." —Midwest Book Review
Disruption Books, 9781633310308, 276pp.
Publication Date: March 26, 2019
About the Author
From 2008 to 2012, Susan Lewis Solomont served alongside her husband, Alan Solomont, in Madrid, Spain, where he was appointed as U.S. Ambassador to Spain and Andorra under President Barack Obama. She was named International Woman of the Year by FEDEPE, the leading organization for Spanish women executives and directors. She holds a Bachelor of Science degree from Cornell University and a master's degree in education from Tufts University.