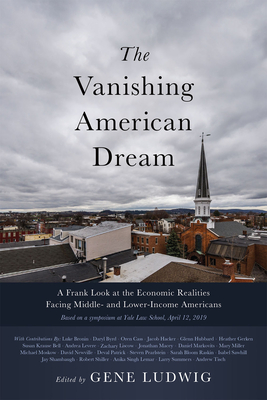 The Vanishing American Dream
A Frank Look at the Economic Realities Facing Middle- and Lower-Income Americans
Hardcover

* Individual store prices may vary.
Other Editions of This Title:
Paperback (3/29/2022)
Description
As we remap our economy, we have an opportunity to rebuild the American Dream for the long-term.

The gap between low- and moderate-income Americans and their wealthier counterparts has become unconscionably wide. A post-pandemic economic recovery presents an opportunity to address this deeper, troubling challenge and to rectify the economic injustice that threatens so many Americans.

In 2019, founder and CEO of Promontory Financial Group Gene Ludwig gathered a bipartisan group of the nation's foremost economic thinkers — academics and politicians, CEOs and former presidential advisors — to break with convention and candidly discuss that widening gap. The Vanishing American Dream: A Frank Look at the Economic Realities Facing Middle- and Lower-Income Americans comes from their insights.

The opportunity to rebuild our economy should inspire the most important conversations and ideas of our time. The dialogue captured in this book provides broad and experienced perspectives on inequality and policy shortcomings, along with examples of ideas that have successfully narrowed the wealth gap, from government investment to the role of the private sector.

Combining expertise with optimism, The Vanishing American Dream invites readers to take a seat at the table for a bracing look at the road back to widespread opportunity, security, and prosperity.

With Contributions By: Sarah Bloom Raskin, Glenn Hubbard, Deval Patrick, Robert Shiller, Larry Summers, Luke Bronin, Daryl Byrd, Oren Cass, Jacob Hacker Heather Gerken, Susan Krause Bell, Andrea Levere, Zachary Liscow, Jonathan Macey, Daniel Markovits, Mary Miller, Michael Moskow, David Newville, Steven Pearlstein, Isabel Sawhill, Jay Shambaugh, Anika Singh Lemar, and Andrew Tisch.
Praise For The Vanishing American Dream: A Frank Look at the Economic Realities Facing Middle- and Lower-Income Americans…
"Gene Ludwig's thoughtfully edited volume takes us closer to bipartisan consensus and solutions. With contributions from conservative thought leaders, academics, journalists, former Democratic governors, and others, The Vanishing American Dream outlines the problem and reaches consensus across ideological disagreements: Our economy is not working for a vast portion of the population." —Mark Warner, Senator, D-VA

"The Vanishing American Dream shines a bright light on how crucial it is that we find a way to achieve more broadly shared opportunity and hope and offers strategies that, with a modicum of political comity, should be achievable. The challenge ahead is for business and political decision makers to take this message to heart." —Jack Lew, Former Secretary of the Treasury

"Gene Ludwig's insightful new book raises timely questions that reveal inconvenient truths about an economic system that is increasingly leaving entire communities behind." —Wayne Frederick, President of Howard University

"Gene Ludwig's book is very much worth reading. The issues raised in the book are timely and important. To address the problems the book so clearly highlights, it's my view that income growth and inequality for low- and moderate-income Americans can only be solved by strong GDP growth and a dynamic market economy. The history of other programs, however well-meaning, are much less effective, if at all." —Alan Greenspan, Former Chair of the Federal Reserve of the United States

"In this book, Gene nails the inequality equation by compiling thoughtful, credentialed solutions to address our country's pervasive economic problems. Gene and his cohorts advance ideas that are pragmatic, doable, and capable of building a broad, bipartisan consensus. As Gene himself might say, 'Let's get on with it to get it done.'" —Ken Duberstein, Chief of Staff to President Ronald Reagan

"In tracing the economic decline of vibrant industrial towns, he asks the hard questions about technology, globalization, the role of government, trade, our educational system, and corporations. He and the extraordinary group of assembled experts force us, with data and insightful analysis, to confront the inequality of our system." —Mary Schapiro, Former Chair of the SEC

"In this lively and engrossing work, Ludwig presents a model of public discourse—informed, multidisciplinary, and shorn of myopic ideological commitments. An exhilarating record of intellectual engagement." —Kirkus Reviews
Disruption Books, 9781633310445, 275pp.
Publication Date: September 22, 2020
About the Author
Gene Ludwig is the founder of the Promontory family of companies and Canapi LLC, the largest financial technology venture fund in the United States. He is the CEO of Promontory Financial Group, an IBM company, and chairman of Promontory MortgagePath, a technology-based, mortgage fulfillment and solutions company. He is the former vice chairman and senior control officer of Bankers Trust New York Corp, served as the United States comptroller of the currency from 1993 to 1998 under President Bill Clinton, and was a partner at Covington & Burling from 1981 to 1992.

In 2019 he founded the Ludwig Institute for Shared Economic Prosperity, an organization dedicated to the economic well-being of middle- and lower-income Americans.

His writing has appeared in The Financial Times, The New York Times, The Wall Street Journal, American Banker, and Time.

He holds a master's degree from Oxford University and is a New College Oxford fellow. He holds a J.D. from Yale University, where he was editor of the Yale Law Journal and chairman of Yale Legislative Services.

Gene lives in Washington, DC, with his wife, Dr. Carol Ludwig. They have three children and two dogs who run the household.