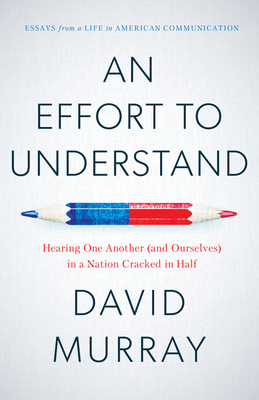 An Effort To Understand
Hearing One Another (and Ourselves) in a Nation Cracked in Half
Paperback

* Individual store prices may vary.
Description
"An insightful book packed with wonderful writing, practical advice, and hope for a better, kinder future." —Jonathan Eig, author of Ali: A Life
You're ready to give up. Throw up your hands and walk out the door. You don't know what else to say—to some dear family and close friends, let alone the crazy strangers that seem to populate half the country.
Congratulations: You're ready to read An Effort to Understand.
But don't worry. This is not a book about civility.
Instead, David Murray (blogger, speechwriter, rhetoric authority, and professional curmudgeon) is urging readers to join him in a near-spiritual movement, one that pushes us to consider communication as more than a means of persuading others to our way of thinking, but as a way of thinking all its own.
With his signature blend of wit, warmth, and four-letter words, Murray's essays tackle subjects from the specter of cancel culture and the responsibilities of citizenship to the art of dealing with annoying neighbors and the challenges of talking to kids about injustice. His words show that the personal and political gulfs between us are small compared to our common desire to connect.
It may be a last-ditch effort, but Americans have a chance at trust, peace, and solidarity if we make an effort to speak more honestly and listen to understand.
Because when it comes to communication, we're all the bad guys. Thankfully, we have a chance to be the good guys too.
Praise For An Effort To Understand: Hearing One Another (and Ourselves) in a Nation Cracked in Half…
"If we as a nation are to heal, we need to make an effort to understand all the things we have in common, and relate to how and why we differ. This collection of essays is for the people who won't give up the hope that we can." —James R. Clapper, former director of National Intelligence

"David Murray's reflections on communication—by leaders, among citizens, and between friends and family members—come at a time when it is clear that forthright, civil, and thoughtful communication is desperately needed. His words could not be more important." —General David Petraeus, former commander of the surge in Iraq, US Central Command, and Coalition Forces in Afghanistan, and former Director of the CIA

"In this most American book, writer David Murray teaches you how to make your own truly honest Effort to Understand." —Admiral James G. Stavridis (Ret.), former European Supreme Allied Commander, NATO 

"David Murray says great communication requires great listening. I hope everyone reads David's compelling book and applies the lessons in real life. We'll be better off for it." —Bob Feldman, founder, The Dialogue Project

"With decades of experience in organizational communications, Murray examines public speeches, from political candidates to corporate CEOs, for clues to how we all can better express ourselves and empathize with friends, family members, co-workers, and fellow citizens." —David Kusnet, chief speechwriter for President Bill Clinton and author of Speaking American 

"Sharp, witty, and entertaining, An Effort to Understand is a fun—but equally instructive—read!" —Mike DeWine, Governor of Ohio

"The ultimate communicator's analysis of how to bridge the gaps in our understanding of each other, no matter how great the divide." —Viv Groskop​, author of How to Own the Room: Women and the Art of Brilliant Speaking

"An insightful book packed with wonderful writing, practical advice, and hope for a better, kinder future." —Jonathan Eig, author of Ali: A Life

"Writing simply, directly, and with great kindness, Murray reminds us that the ways in which we communicate show us who we are. A worthy and reparative tool for these times." —Phoebe Judge, host and co-creator of the podcasts Criminal, and This Is Love

"Murray's ask seems simple enough: We have to make an effort to understand one another (critical now as the world seeks new ways to repair our polarized society). But figuring out the how is what's tough. Murray breaks it down for us with candid stories and lessons from his life, shared with healthy splashes of humor, edginess, vulnerability, humility and sometimes even apology. For anyone who is working to become a better communicator, Murray's book is fresh food for thought." —Zumwald Company Blog
Disruption Books, 9781633310483, 225pp.
Publication Date: March 2, 2021
About the Author
David Murray heads the global Professional Speechwriters Association and comments daily on communication issues on his popular blog Writing Boots. He is an award-winning journalist and is editor and publisher of Vital Speeches of the Day, one of the world's longest continuously published magazines. He is the author of Raised By Mad Men, a memoir about his advertising parents, and co-author of the New York Times bestseller Tell My Sons: A Father's Last Letters. The son of two writers, Murray grew up in Hudson, Ohio, and studied English at Kent State University before moving to Chicago to make his own writing life. He lives in Chicago with his wife, Cristie Bosch, and daughter, Scout Murray.