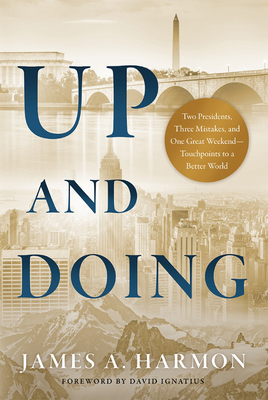 Up and Doing
Two Presidents, Three Mistakes, and One Great Weekend—Touchpoints to a Better World
Hardcover

* Individual store prices may vary.
Description
From championing developing nations to funding our carbon-free future, investor and advisor James Harmon reveals how markets can move the world forward by creating stable, growing economies and sound deals that promote economic development.
James Harmon has always had a passion for ambitious causes. As a banker, he successfully advised corporations, like Starbucks, and helped them to become cultural institutions. Dabbling in the movie and music industries, he found meaning in funding the art he felt would make people happy and add to the public good. His unique perspective on investment led him to the Clinton White House as head of EXIM Bank and, eventually, to Egypt, where he represented the State Department shortly after the Arab Spring. Still "up and doing," today he cochairs the board of the World Resources Institute.

Not all of Harmon's deals were successes, and he recounts the wins and losses in equal detail, exposing lessons learned, and even sharing a few farcical scenes featuring Washington's and Wall Street's most notorious bold-face names.

No matter where he is replanted, Harmon advocates for global change by examining the issues of our time, including women's financial empowerment and the urgent need to fight climate change. He encourages our leaders to apply lessons learned in the private sector to the world's most demanding challenges, from helping a local community to electing a president or bolstering a developing African nation.

Up and Doing presents a tale of the deals that made Harmon a celebrated figure in the world of global investment, and shows that the best way to do well is by also doing good.
Praise For Up and Doing: Two Presidents, Three Mistakes, and One Great Weekend—Touchpoints to a Better World …
"Harmon deftly manages the writer's trick of turning his life into story. The tales of this one man's astonishing journey are irresistible, riotous, resonant, heartfelt, and subtly revealing of where America has been and where we're headed. I loved this book." —Ron Suskind, Pulitzer Prize-winning journalist and author of The One Percent Doctrine and Life, Animated

"While some would have taken their Wall Street winnings and coasted, Jim went to Washington, Asia, and Africa to help define a new frontier of investing. [He] could have stopped there, but he saw yet more purpose and impact to be made—with the environment, Egypt's economy, and now this book." —Roben Farzad, host of public radio's Full Disclosure

"Harmon finds that his financial expertise is vital, but he is convinced that what matters far more is his talent for building relationships—with Hollywood movie executives, Mormon businessmen in Utah, Washington politicians, Russian oligarchs, and Egyptian entrepreneurs." —Connie Bruck, staff writer for The New Yorker

"From billion-dollar business deals to pathbreaking climate change research, Up and Doing defies classification—much like its author. Jim Harmon's inspiring book traces a career in the service of others and gives new hope for harnessing the power of economic development to secure a sustainable future for generations to come." —Andrew Steer, President and CEO, Bezos Earth Fund

"For those who wish to understand complex market dynamics and how investing has the potential to create positive change, Up and Doing serves as an invaluable and informative reference." —Sherif Kamel, Dean, the American University in Cairo School of Business

"Whether focusing on climate change, assisting or investing in underdeveloped economies, or just standing up to unfair policies and practices, Harmon proves again the importance of 'doing.' The candor of his reflections and the import of his actions will inform and inspire others to get up every day and go about the work of making a better world." —Ruth Simmons, President, Prairie View A&M University

"In a time of division and polarization, Up and Doing is a refreshing return to the lost art of relationship building. James Harmon has given us a playbook for transforming the world through the most challenging financial markets, but it's more than that too. It's an inspiring story of a wildly successful career." —Stephen Ross, Chairman and Founder of Related Companies

"An enlightening career account, personally candid and politically astute." —Kirkus
Disruption Books, 9781633310544, 408pp.
Publication Date: November 23, 2021
About the Author
JAMES A. HARMON is chairman of the Egyptian–American Enterprise Fund, a private corporation seeded by US government funds to promote the development of the Egyptian private sector. He is board cochair of the World Resources Institute, a global policy and research institution. Nominated by President Clinton and confirmed by the US Senate in June 1997, he was the chairman of the Export-Import Bank of the United States for the four years that ended June 2001. Prior to that he was chairman and CEO of the investment bank Schroder Wertheim (1986–1996). He lives in Weston, Connecticut.
or
Not Currently Available for Direct Purchase