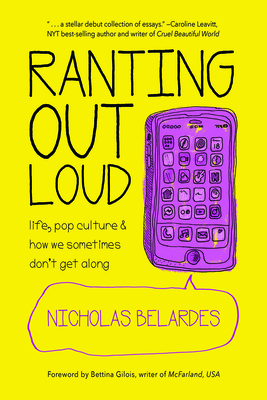 Ranting Out Loud (Paperback)
Life, Pop Culture & How We Sometimes Don't Get Along
Mango, 9781633530652, 150pp.
Publication Date: September 5, 2016
Description
In his debut essay collection, Nicholas Belardes uses today's pop culture and self-deprecating humor as a filter for discussing personal stories of family, writing, gender, art, and race. He dives into the Harry Potter play and discusses his cursed childhood home. He tells coming-of-age tales of Dungeons & Dragons and blames Stranger Things for jogging those hilarious memories. In great detail he describes how working for a cheesy Las Vegas animation company meant everything to a relationship with his dad. And he presents an unpopular artistic argument for how Tyrion Lannister of Game of Thrones may have ruined his life as a writer (not really). He gives you Star Wars and its weird connections to the Catcher in the Rye (as well as artistic expectations in education). In an essay about race he presents virtual universes, cowboy images of his racist dad, and odd choices of identity in Ready Player One. He even provides a layman's guide for how to introduce someone to Star Trek while at the same time telling us that what we mimic might not be good for us. He also discusses miscommunication in the world in relation to writing the first original Twitter novel, Small Places. And finally, he describes how American numbness negatively affects the world of art. Belardes presents a side of our humanity working in tandem with pop culture. It isn't always pretty, though it is hopeful, sometimes funny, and full of promise.
Advertisement