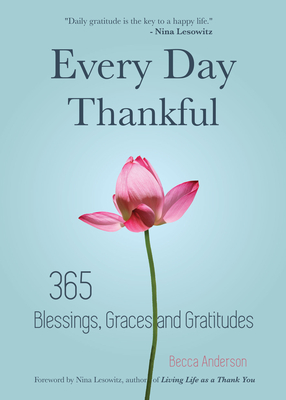 Every Day Thankful
365 Blessings, Graces and Gratitudes (Alcoholics Anonymous, Daily Reflections, Christian Devotional, Gratitude, Blessi
Paperback

* Individual store prices may vary.
Description
#1 Amazon New Release ─ Daily reflections. Inspirational prayers for every day of the year
Relationship prayers: This lovely book, Every Day Thankful: 365 Blessing, Graces and Gratitudes, can be used as a book of graces to share over the evening meal, as a hostess gift or for daily reflection. Sharing gratitude is one of the most powerful ways to create close relationships. By praying together at the daily meal with these gratitudes, you have a happier family and become bonded together by blessings. Add the joy of living in thankfulness by incorporating daily reflections and inspirational prayers into your plan for each day.
Prayers before meals: In today's frenetic world, the common experience of sharing the evening meal can restore a sense of community and humanity to society. More important, the blessing of the meal fosters in us a sense of gratitude for the gifts we have been given. This collection of 365 blessings-ranging from the words of Buddhist monk Thich Nhat Hanh and Abraham Lincoln to Maya Angelou and Oprah will bring joy to the shared experience of breaking bread.
Daily reflections: Author Becca Anderson grew up with graces, spoken blessings and relationship prayers every day at the family table, noting, We looked forward to it every day and it got us through everything, good times and bad. I believe wholeheartedly that counting your blessings and prayers of gratitude will bring loved ones together and adds so much joy to life.
Inspirational prayers: Becca Anderson's curated collection of the world's wisdom traditions celebrates the connections between grace and gratitude. The book includes a wide selection of blessings, graces and gratitudes including:
devotionals for women
relationship prayers
prayers for giving thanks
devotionals for men
thank the Lord prayers
devotionals for couples
Mango, 9781633535275, 228pp.
Publication Date: March 28, 2017