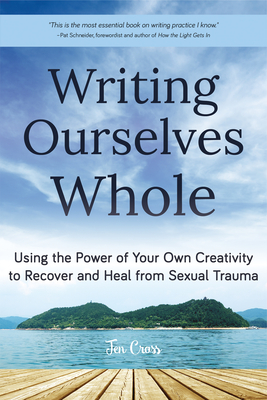 Writing Ourselves Whole
Using the Power of Your Own Creativity to Recover and Heal from Sexual Trauma (Help for Rape Victims, Trauma and Recov
Paperback

* Individual store prices may vary.
Description
Healing Victims of Sexual Assault Through Transformative Journaling
"This is the most essential book on writing practice I know ... Every writing teacher, writing coach, writing workshop or group leader and every person with a history of any kind of trauma needs this book." --Pat Schneider, author of How the Light Gets In and founder of the Amherst Writers & Artists method

#1 Best Seller in Obsessive Compulsive Disorder (OCD) and Study Aids

One in six women is the victim of sexual assault. Using her own hard-won wisdom, author Jen Cross shows how to heal through journaling and personal writing

Rape victims and victims of other sexual abuse. Writing Ourselves Whole is a collection of essays and creative writing encouragements for sexual trauma survivors who want to risk writing a different story. Each short chapter offers encouragement, experience, and exercises.

A book that could change your life. When you can find language for the stories that are locked inside, you can change your life. Talk therapy can only go so far for the millions of Americans struggling in the aftermath of sexual abuse and sexual assault. Sexual assault survivors can heal themselves. Sexual trauma survivor communities (and their allies) have the capacity to hold and hear one another's stories-we do not have to relegate ourselves solely to the individual isolation of the therapist's office.

What You'll Learn Inside Writing Ourselves Whole:

How to reconnect with your creative instinct through freewriting
How freewriting can help you reclaim the parts of yourself and your history
How "restorying" the old myths about sexual trauma survivors can set you free
If you have read books such as The Body Keeps the Score, The Artist's Way, Writing Down the Bones, or Writing as a Way of Healing, you will want to read Writing Ourselves Whole. Also try Jen Cross's self-care journal, Write to Restore.
Mango, 9781633536197, 304pp.
Publication Date: August 22, 2017