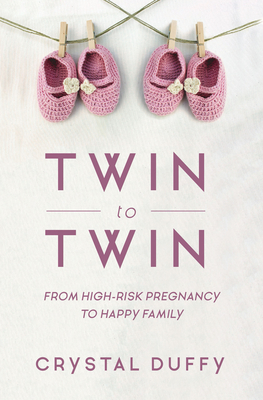 Twin to Twin
From High-Risk Pregnancy to Happy Family (Childbirth Preparation, Pregnancy for Twins)
Paperback

* Individual store prices may vary.
Other Editions of This Title:
Digital Audiobook (12/14/2018)
Compact Disc (12/15/2018)
MP3 CD (12/15/2018)
Compact Disc (12/15/2018)
Description
The High-Risk Guide to Twin Pregnancy
An intimate account, told with flagging and unflagging optimism, Duffy's story ensures that others need not ride alone through this rollercoaster experience." --Suzy Becker, Author of One Good Egg

#1 New Release in Pediatric Emergencies

This is a twenty-nine-year-old mother's harrowing and inspiring adventure through a high-risk twin pregnancy. But this isn't only a book about pregnancy for twins. It's also an inspirational story to which all women can relate, especially when confronting any type of adversity.
A crisis when expecting. One minute Crystal was sitting at a candlelight dinner in Paris with her husband. The next she was back home in Houston, sitting in her Ob-Gyn's office concerned that she was having a second miscarriage. Instead, she found out she was pregnant with twins Since Crystal and her husband already had a two-year-old daughter, she couldn't imagine why mothering twins would be all that different. But, after a family vacation at the beach, she finds out that her twins have a life-threatening condition called Twin to Twin Transfusion Syndrome, which meant that one is transfusing blood (disproportionately) to the other.
A riveting true story. Forced to stay in the hospital to be under direct care, Crystal wondered how she would pass time the next few weeks, away from her husband and daughter. She soon found out as she embarks on an emotional rollercoaster. Twin to Twin is a raw and inspirational story filled with tenderness, vulnerability and humor. It chronicles the wildest, most terrifying and challenging year of Crystal's life, which is also the most beautiful and eye-opening.
While reading Twin to Twin:
Share the experience of a high-risk twin pregnancy
Gain valuable insights
Be inspired
If you found solace and inspiration in What to Do When You're Having Two; You Can Two or When You're Expecting Twins, Triplets or Quads; then you'll love Twin to Twin.
Mango, 9781633538337, 332pp.
Publication Date: December 15, 2018