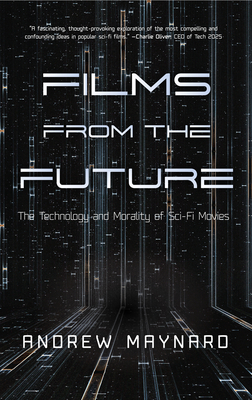 Films from the Future
The Technology and Morality of Sci-Fi Movies
Hardcover

* Individual store prices may vary.
Other Editions of This Title:
Digital Audiobook (11/14/2018)
Description
Hard Science Fiction Films that Predict Future Technology
"As the breakneck advance of technology takes us into a world that is both exciting and menacing, sci-fi films give us an inkling of what is to come, and what we should avoid." --Seth Shostak, senior astronomer at the SETI Institute, and host of Big Picture Science

#1 Best Seller in Nanotechnology, Computers & Technology, Science Fiction & Fantasy, Mechanical Engineering, and Robotics & Automation, Cybernetics, and Experiments & Projects

Dr. Andrew Maynard, physicist and leading expert on socially responsible development of emerging and converging technologies, examines hard science fiction movies and brings them to life.

Science and technology are radically changing our world. Films from the Future is an essential guide to navigating a future dominated by complex and powerful new technologies. The jump from room-filling processors to pocket-size super computers is just the beginning. Artificial intelligence, gene manipulation, cloning, and inter-planet travel are all ideas that seemed like fairy tales but a few years ago. And now their possibility is very much here. But are we ready to handle these advances? As Maynard explains, "Viewed in the right way―and with a good dose of critical thinking―science fiction movies can help us think about and prepare for the social consequences of technologies we don't yet have, but that are coming faster than we imagine."

Dr. Maynard looks at twelve sci-fi movies and takes us on a journey through the worlds of biological and genetic manipulation, human enhancement, cyber technologies, and nanotechnology. Gain a broader understanding of the complex relationship between science and society. The movies include old and new, and the familiar and unfamiliar, providing a unique, entertaining, and ultimately transformative take on the power and responsibilities of emerging technologies.

Read books such as The Book of Why, The Science of Interstellar, or The Future of Humanity? Then you'll love Films from the Future
Mango, 9781633539075, 256pp.
Publication Date: November 15, 2018