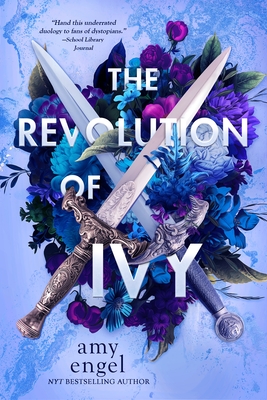 The Revolution of Ivy (Book of Ivy #2)
Paperback

* Individual store prices may vary.
Other Editions of This Title:
Digital Audiobook (11/2/2015)
Description
"Engel makes good use of her setting; the fight for survival on the cusp of winter stokes the sense of danger in a way that matches Ivy's roiling feelings, and the love story moves with the slow-growing heat that Ivy needs." —Kirkus Reviews

I am still alive. Barely.

My name is Ivy Westfall. I am sixteen years old and a traitor. Three months ago, I was forced to marry the president's son, Bishop Lattimer—as all daughters of the losing side of the war are sold off in marriage to the sons of the winners. But I was different. I had a mission—to kill Bishop.

Instead, I fell in love with him.

Now I am an outcast, left to survive the brutal savagery of the lands outside of civilization. Yet even out here, there is hope. There is life beyond the fence. But I can't outrun my past. For my actions have set off a treasonous chain of events in Westfall that will change all of our fates—especially Bishop's.

And this time, it is not enough to just survive...

The Book of Ivy series is best enjoyed in order.
Reading Order:
Book #1 The Book of Ivy
Book #2 The Revolution of Ivy
Praise For The Revolution of Ivy (Book of Ivy #2)…
"Thought-provoking, poignant, and sexy! Readers will burn the midnight oil to finish The Book of Ivy and fall asleep with the name Bishop Lattimer on their lips." —Regina at Mel, Erin, and Regina Read-A-Lot on The Book of Ivy

"The Book of Ivy has every ingredient you look for in an epic novel: from the spine-tingling plot and exhilarating characters, to every entrancing word penned by Amy Engel." —Kris at Insightful Minds Reviews on The Book of Ivy

"I enjoyed this novel so much that I polished it off in two sittings. There is no insta-love! There is no love triangle! Best of all, the protagonist actually has common sense, and she uses it! The slow-to-develop relationship is believable, and both Ivy and Bishop are easy to relate to. Waiting anxiously for Book 2!" —Julie at Magna Maniac Café on The Book of Ivy

"With her debut, Amy Engel has pulled off one of the best dystopian romances that I have ever read. It was impossible to put down." —Kayla at Bibliophilia, Please on The Book of Ivy
Entangled: Teen, 9781633751156, 400pp.
Publication Date: November 3, 2015
About the Author
Amy Engel was born in Kansas and after a childhood spent bouncing among countries (Iran, Taiwan) and states (Kansas; California; Missouri; Washington, D.C.), she settled in Kansas City, Missouri, where she lives with her husband and two children. Before devoting herself full-time to motherhood and writing, she worked as a criminal defense attorney, which is not quite as exciting as it looks on television. When she has a free moment, she can usually be found reading, running, or shoe shopping.