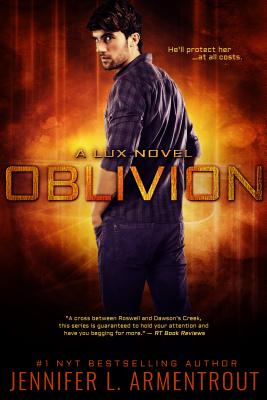 Oblivion (A Lux Novel) (Paperback)
Entangled: Teen, 9781633754799, 352pp.
Publication Date: December 1, 2015
Other Editions of This Title:
MP3 CD (2/2/2016)
Paperback, Spanish (10/17/2016)
Compact Disc (2/2/2016)
* Individual store prices may vary.
Description
"An unmissable series!" –Samantha Young, New York Times bestselling author of On Dublin Street
"This is the stuff swoons are made of." Wendy Higgins, New York Times bestselling author of Sweet Evil
Experience the epic love story of OBSIDIAN as told by its hero, Daemon Black…
I knew the moment Katy Swartz moved in next door, there was going to be trouble. Lots of it.
And trouble's the last thing I need, since I'm not exactly from around here. My people arrived on Earth from Lux, a planet thirteen billion light years away. Plus, if there's one thing I know, it's that humans can't be trusted. We scare them. We can do things they only dream about, and honestly, we make them look weak as hell. 'Cuz they are.
But Kat is getting to me in ways no one else has, and I can't stop myself from wanting her—or wanting to use my powers to protect her. She makes me weak, and I'm the strongest of our kind, tasked with protecting us all. So this one simple girl…she can mean the end for us. Because the Luxen have an even bigger enemy—the Arum, and I need to stay on my game.
Falling for Katy—a human—won't just place her in danger. It could get us all killed, and that's one thing I'll never let happen...
About the Author
Jennifer L. Armentrout is a #1 New York Times, USA Today, and international bestselling author of the Lux series and other books for teens and adults. She is a #1 bestseller in Germany and Italy, and a top seller in markets around the world.
In total, her young adult novels have sold over a million copies since 2011 in the US. Her YA novels have been finalists for the Goodreads Choice Awards and nominated for the YALSA Teen Top Ten. In 2017, The Problem with Forever (Harlequin Teen) won the RITA Award for best young adult novel.
Armentrout lives in West Virginia with her husband and dogs.
Praise For Oblivion (A Lux Novel)…
5 stars: "Oh WOW! That's all I've got. Well that and you MUST read this." ?Abbi Glines, #1 New York Times bestselling author of Until Friday Night

5 stars: "An unmissable series!" —Samantha Young, New York Times bestselling author of On Dublin Street
"This is the stuff swoons are made of." ?Wendy Higgins, New York Times bestselling author of Sweet Evil
Top Pick, 4 1/2 stars: "The beginning of Armentrout's new Lux series is a thrilling ride from start to finish. A cross between Roswell and Dawson's Creek, this series is guaranteed to hold your attention and have you begging for more." —RT Book Reviews
5 stars: "Aliens, hot aliens? DAEMON BLACK???? YES PLEASE! [...] This is actually the book that made me start book blogging!" —Sasha Alsberg, #1 New York Times bestselling co-author of Zenith
5 stars: "I LOVE DAEMON BLACK...that is all." —Jacqueline, Goodreads.com
5 stars: "Love the mean boys." Penelope Douglas, New York Times bestselling author of Bully
5 stars "Unexpected. Beautiful. And brilliant." ?Nashoda Rose, New York Times bestselling author of Torn From You
5 stars: "This series owned me the first time I read it and there is nothing better than having Daemon Black's POV."Kelli C ~ Jack Sawyer's Heart, Goodreads.com
5 stars "The personality and wit of the main character, Katy, had me laughing out loud on several occasions. This book offers the perfect amount of teasing, flirting, and sexual tension that I think we can all appreciate. —Tabatha Vargo, New York Times bestselling author of Little Black Book
5 stars "I love Daemon--but then, who wouldn't love the hot alien next door? ?Margo Bond Collins, New York Times bestselling author of Under Her Skin
5 stars: "The dialogue, romantic tension & action were great. Loved all the characters. Love the focus on Katy & Dee's relationship, and of course, the guy--Daemon Black. Smokin hot & obnoxious as hell. Sigh." —Cindi Madsen, USA Today bestselling author of Falling for Her Fiance
5 stars: "I teen-girly giggled my way through this one in record time. Yeah, it was pathetic. I sat here on the couch giggling at the witty banter and sexual tension like I was fifteen years old again. Good times. (I'm a nerd, what can I say?) Well written, creative plot, very likable characters and over all fun. —Kelly Oram, bestselling author of Cinder & Ella and If I Were a Movie
5 stars: "[Jennifer L. Armentrout] really understands the key ingredients to a fantastic YA romance: swoon-worthy guys, realistic heroines, wistful romance, action, and humor." —Rachael Wade, author of Preservation
5 stars: "I loved the take on aliens, and the characters are so feisty and fun! It's one of those "new girl moves to town and falls in with a group of non-humans lead by a gorgeous yet douchey guy" kind of stories, but Katy is a really refreshing main character. She's snarky and can stand up for herself and despite her attraction to Daemon, she's not afraid to call him a dickhead when he's being one." —Kat O'Keefe, Katytastic Booktube
or
Not Currently Available for Direct Purchase