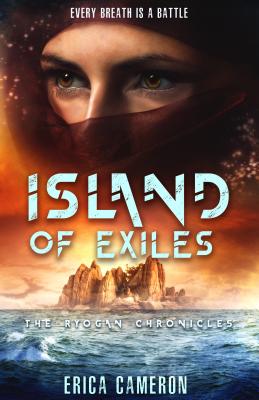 Island of Exiles (The Ryogan Chronicles #1)
Paperback

* Individual store prices may vary.
Description
"A rare gem of a book....[and a] fresh, original series starter." —Kirkus Reviews, starred review
In Khya's world, every breath is a battle.
On the isolated desert island of Shiara, dying young is inevitable. The clan comes before self, and protecting her home means Khya is a warrior above all else.
But when following the clan and obeying their leaders could cost her brother his life, Khya's home becomes a deadly trap. The only person who can help is Tessen, her lifelong rival and the boy who challenges her at every turn. The council she hoped to join has betrayed her, and their secrets, hundreds of years deep, reach around a world she's never seen.
To save her brother's life and her island home, her only choice is to trust Tessen, turn against her clan, and go on the run—a betrayal and a death sentence.
The Ryogan Chronicles are best enjoyed in order.
Reading Order:
Book #1 Island of Exiles
Book #2 Sea of Strangers
Book #3 War of Storms
Praise For Island of Exiles (The Ryogan Chronicles #1)…
"Cameron expertly blends worldbuilding and intriguing characters with page-turning action scenes and a story that builds in tension and complexity. The novel's commitment to diversity adds new dimensions to thestory, as the cast is entirely nonwhite, and the clan recognizes nonbinary gender identities and complex sexual orientations. This is a rare gem of abook.... [and a] fresh, original series starter." ~ Starred Kirkus Review
"Erica Cameron's ISLAND OF EXILES is a remarkable achievement: a fantasy world so richly imagined, so finely detailed, and so strikingly original, even the most incredible elements feel totally real. The energy of the desosa will tingle along your skin as you race through this amazing book, and at journey's end, you'll long for the sequel so you can immerse yourself once more in the mysteries of Itagami! -Joshua David Bellin, author of the Survival Colony series
"Island of Exiles is imaginative, bold, and as electrifying as a Shiara storm."-Lori Lee, author of Gates of Thread and Stone and The Infinite.
A beautifully wrought fantasy filled with magic, rebellion, and romance, plus a strong, butt-kicking heroine to root for!"-Lea Nolan, USA Today Bestselling author of Conjure, Allure, and Illusion
"I was consumed by the savage mysteries of Cameron's harsh and haunting fantasy world. A story of love and loss as searing as the desert heat."-Diana Peterfreund, author of For Darkness Shows the Stars
"Harrowing and heartfelt. The intricately-realized world of ISLAND OF EXILES crackles with harsh magic and gripping suspense."-A.R. Kahler, author of The Immortal Circus series
"ISLAND OF EXILES has everything I've been looking for in a fantasy--powerful characters, magical powers that make me itch with envy, and a spoken language that is as intrinsic to the story as it is beautiful."-Amber Lough, author of The Fire Wish and The Blind Wish
Entangled: Teen, 9781633755925, 400pp.
Publication Date: February 14, 2017
About the Author
After a lifelong obsession with books, Erica Cameron spent her college years getting credit for reading and learning how to make stories of her own. Erica graduated with a double major in psychology and creative writing from Florida State University. She's worked as a dance instructor, research assistant, pointe shoe fitter, pizza delivery girl, editorial assistant at a yachting magazine, bookseller, and English literature teacher at a residential rehabilitation center for teens. Now, she's the author of several series for young adults including The Ryogan Chronicles, the Assassins duology, and the upcoming Pax Novis trilogy. Additionally, Erica works for Barnes & Noble and is an advocate for asexuality and emotional abuse awareness. She currently lives in South Florida. You can learn more about Erica and her books by visiting ByEricaCameron.com.
or
Not Currently Available for Direct Purchase