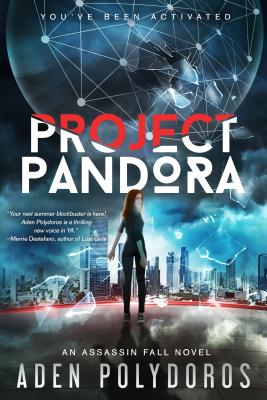 Project Pandora (Assassin Fall #1)
Paperback

* Individual store prices may vary.
Description
Tyler Bennett trusts no one. Just another foster kid bounced from home to home, he's learned that lesson the hard way. Cue world's tiniest violin. But when strange things start happening—waking up with bloody knuckles and no memory of the night before or the burner phone he can't let out of his sight—Tyler starts to wonder if he can even trust himself.
Even stranger, the girl he's falling for has a burner phone just like his. Finding out what's really happening only leads to more questions…questions that could get them both killed. It's not like someone's kidnapping teens lost in the system and brainwashing them to be assassins or anything, right? And what happens to rogue assets who defy control?
In a race against the clock, they'll have to uncover the truth behind Project Pandora and take it down—before they're reactivated. Good thing the program spent millions training them to kick ass...
The Assassin Fall series is best enjoyed in order.
Reading Order:
Hades Rising (prequel novella)
Book #1 Project Pandora
Book #2 Project Prometheus
Praise For Project Pandora (Assassin Fall #1)…
Pandora's box is thrown wide open when brainwashed assassins begin digging into the glitches of their own programming. They're regular teens one minute, trained assassins the next. A combination of case notes and status reports are left for readers to decipher and reveal the nature of each player in this massive game of cat and mouse. As the teens' programming breaks down and they unwittingly draw closer together, drastic measures are taken to bring them to heel as death or, in their case, Hades, is around every wrong turn. Hades, a subject gone rogue and reprogrammed many times, is their only hope at infiltrating the larger players, but finding Hades's humanity is harder than they expect. A nonstop thriller, this book sets up for a second installment, with plenty of gory details and intrigue. VERDICT Purchase where Scythe by Neal Shusterman and similar thrillers are popular.–Meghan Oppelt, Whitehall School District, WI - School Library Journal
Entangled: Teen, 9781633756854, 384pp.
Publication Date: August 1, 2017
About the Author
Aden Polydoros grew up in Long Grove, Illinois, and now lives in Arizona. He is a writer of young adult fiction. When he isn't writing, he enjoys reading and going on hikes in the mountains. Aden Polydoros is a 2015 Gold Medalist in the Scholastic Art and Writing Awards and has published two short stories in Best Arizona Teen Writing of 2015.
or
Not Currently Available for Direct Purchase