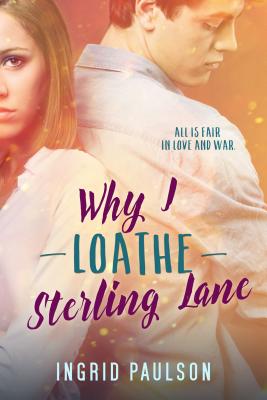 Why I Loathe Sterling Lane
Paperback

* Individual store prices may vary.
Description
Per her 537 rules, Harper Campbell keeps her life tidy—academically and socially. But the moment Sterling Lane transfers into her tiny boarding school, her twin brother gets swept up in Sterling's pranks and schemes and nearly gets expelled. Harper knows it's Sterling's fault, and to protect her brother, she vows to take him down. As she exposes his endless school violations, he keeps striking back, framing her for his own infractions. Worst of all, he's charmed the administration into thinking he's harmless, and only Harper sees him for the troublemaker he absolutely is.
As she breaks rule after precious rule in her battle of wits against Sterling and tension between them hits a boiling point, she's horrified to discover that perhaps the two of them aren't so different. And maybe she doesn't entirely hate him after all. Teaming up with Sterling to save her brother might be the only way to keep from breaking the most important rule—protecting Cole.
Praise For Why I Loathe Sterling Lane…
"This book gave me life: it was voice-y fun from first page to last and I read in one sitting with a goofy grin on my face (there may also have been some, "Kiss already!!" shouting involved). I especially love that the main character gives as good as she gets when it comes to prank wars, witty banter, and an eventual surrender to *gasp* actual feelings for "the enemy"! With a delicious rascal of a boy and a loveable prickle of a heroine, these two create pure love-to-hate magic."- Jen Malone, author of Wanderlost, Map to the Stars, and Changes in Latitudes
Entangled: Teen, 9781633757004, 150pp.
Publication Date: June 6, 2017
About the Author
Ingrid Paulson does not, in fact, loathe anyone. Although the snarky sense of humor and verbal barbs in WHY I LOATHE SUMNER LANE might suggest otherwise (and shock those who think they know her best). Ingrid lives in San Francisco with her husband and children and enjoys long-distance running, eavesdropping, and watching science documentaries. She has always loved books and writing short stories, but was surprised one day to discover the story she was working on wasn't so short any more. VALKYRIE RISING, a paranormal girl power story, was Ingrid's first novel. Visit her online at http://www.ingridepaulson.com/.
or
Not Currently Available for Direct Purchase