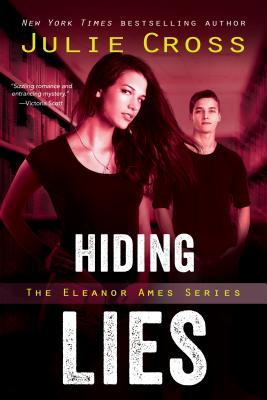 Hiding Lies (Eleanor Ames Series #2)
Paperback

* Individual store prices may vary.
Description
At Holden Prep, dirty little secrets always have a way of coming to the surface.

Eleanor Ames has never been what she seems. Average high school student on the outside, but reformed con artist trying to break free of her past on the inside. When Eleanor receives startling news about someone from her previous criminal life, plans for a new operation coinciding with her school's upcoming field trip quickly consume her.

But operations rarely go according to plan. And this is one her irresistible teen FBI agent boyfriend, Miles, would never approve of.

Now, more than just Ellie's reputation is at stake. If she fails, it could be her life.

The Eleanor Ames series is best enjoyed in order.
Reading Order:
Book #1 Chasing Truth
Book #2 Hiding Lies
Praise For Hiding Lies (Eleanor Ames Series #2)…
5 stars: "Cross sets the pages of her stories ablaze with sizzling romance and entrancing mystery." —Victoria Scott, author of Violet Grenade

5 stars: "Hiding Lies kept me reading way past my bedtime. Julie Cross delivers a riveting suspenseful story. I got sucked in on page one and ended up with a wicked book hangover." —Victoria Bunce, Teacher/advocate

4.5 stars: "If this is the last book, Cross gave us a great ending, but I must say, I would love to read more of Eleanor and Miles' adventures." —Samantha, We Live and Breathe Books

5 stars: "When I read these books I feel like I should be watching a great drama series on the CW!" —Sarah, Educator at Canisteo-Greenwood CSD

4.5 stars: "Eleanor Ames is back and Hiding Lies was just as enjoyable as book one." —Kristi, Confessions of a YA Reader

5 stars: "It's been one of the best reading experiences getting back into the world of Eleanor Ames. She is by far one of my favorite YA heroines and this is definitely a favorite series." —T. Rosado, Goodreads Reviewer

4 stars: "This series is a fun young adult mystery with a snarky but likable main character." —Carrie, Carrie's Book Reviews

5 stars: "I'm totally in love with Julie Cross's books. This is my fourth and I just can't wait for more! If she's writing I'm reading!" —Danielle, Chapters Through Life

4 stars: "Cross provided an amazing, riveting and well balanced conspiracy, secret agent, romantic thriller." —Beth, Tome Tender

5 stars: "I feel like I should be out of breath. The action just kept coming in this one. Ellie, our snarky, Veronica Mars-esque heroine is back and things have gotten more complicated than ever." —Lissa Hawley, Goodreads Reviewer

4 stars: "This story is full on from start to finish. Between school, her friends, her boyfriend Miles, her family, the FBI and the mob Eleanor has so many balls in the air." —Veronica, Wicked Reads

5 stars: "Hiding Lies is a fantastic book. It was full of suspense and I couldn't but it down." —Angela, Librarian at Whiting Public Library

4 stars: "Hiding Lies was exactly what I was hoping for and more, and I undoubtedly recommend this one to anyone who's a fan of Veronica Mars, Nancy Drew, or suspense/thriller type mysteries." —Kirby, The Preppy Book Princess
Entangled: Teen, 9781633758162, 304pp.
Publication Date: April 17, 2018
About the Author
JULIE CROSS lives in central Illinois with her husband and three children. She never wrote fiction before May of 2009, but since then, hasn't gone a day without writing. She is the author of The Tempest Trilogy.
or
Not Currently Available for Direct Purchase