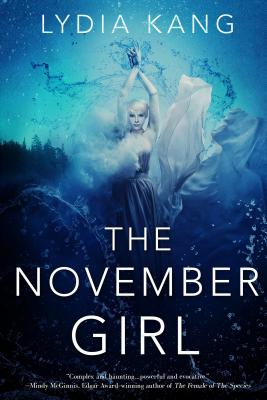 The November Girl
Paperback

* Individual store prices may vary.
Description
LOCUS Magazine: A Best Book of 2017!
I am Anda, and the lake is my mother. I am the November storms that terrify sailors and sink ships. With their deaths, I keep my little island on Lake Superior alive.
Hector has come here to hide from his family until he turns eighteen. Isle Royale is shut down for the winter, and there's no one here but me. And now him.
Hector is running from the violence in his life, but violence runs through my veins. I should send him away, to keep him safe. But I'm half human, too, and Hector makes me want to listen to my foolish, half-human heart. And if I do, I can't protect him from the storms coming for us.
Praise For The November Girl…
LOCUS Magazine: A Best Book of 2017!
"...A romantic thriller with an original premise." – School Library Journal
"Three-dimensional vividness...An emotional and dramatic tale of an otherwordly relationship." - Kirkus Reviews
"The November Girl is a magnetic, magical read, and one that should absolutely be on your to-read list." - Hypable
"Complex and haunting, The November Girl looks for the light in the darkest of places. Powerful and evocative." – Mindy McGinnis, Edgar Award-winning author of The Female of The Species
"Kang leaves the reader breathless as she brings the reader with Anda and Hector in a heart-pounding romance that must survive the storm." – Mia Siegert, author of Jerkbait
"With her trademark beautiful prose, Lydia Kang's love story between a troubled boy and a literal force of nature is exquisitely drawn and heart-wrenching. Set in the unforgiving autumn forests on Lake Superior's Isle Royale, you'll be rooting for Hector and Anda to find strength in each other despite very real threats beyond their control. Magical and thrilling, The November Girl will haunt you long after you finish." – Maurene Goo, author of I Believe In A Thing Called Love
"The November Girl should be savored by lantern, under a wool blanket on a chilly rainswept night. Brimming with Lydia Kang's smart prose and evocative imagery, The November Girl is an atmospheric, haunting tale of love, sacrifice, and self-acceptance that builds like a rogue wave toward its stunning conclusion." – Elle Cosimano, award-winning author of Nearly Gone
"An intense and beautifully written romance that had me bracing myself until the final page." – Brenda Drake, NYT bestselling author of Thief of Lies
"Absolutely stunning in its beauty! I've never read a book quite like The November Girl. You don't want to miss this unique and mesmerizing tale." – Pintip Dunn, NYT bestselling author of Forget Tomorrow

5 stars: "Andy's loneliness is heart wrenching. Hector really made my heart ache though. This book is hauntingly beautiful and full of discovery. I highly recommend this young adult fantasy!" –Amy Leigh, Amazon Reviewer
5 stars: "I was left breathless from this novel. It was such a beautiful, dark, dangerous love story that is right up my alley. I was hooked and lost at sea, sucked in from the beginning." – Amanda Scheel, Goodreads Reviewer
5 stars: "Finding a book that takes you into a different world and allows you to experience it "first hand" is rare. I'm so excited about this book because it does all of that and so much more." – Leigh Creech, Goodreads Reviewer
5 stars: "[Lydia Kang] wove a lovely tale involving two people that were halves and made them whole as individuals and as one. [...] Typically I am not a fan of books without dialogue but this one reeled me in and kept me there until the last wave was gone." – Tammy, Goodreads Reviewer
5 stars: "Kang has a way with words that makes the setting of Isle Royale and the characters inhabiting it come to life in a magical and beautiful way. I'd read this again and would definitely recommend." – Leah, Write, Edit, Read, Repeat
5 stars: "The story was such a beautiful, dark, spooky, dangerous love story! Which is what I'm completely in to. I was fully captured since the beginning of the book. It was incredible to see how human beings are able to understand both good and evil. I LOVED IT!" – Kyree Hummel, Netgalley Reviewer
5 stars: "I would definitely recommend this book to anyone looking to lose yourself in a good book. It's unique plot and well put together structure make it a no brainer!!" – Amber Koch, Amazon Reviewer
Entangled: Teen, 9781633758261, 340pp.
Publication Date: November 7, 2017
About the Author
Lydia Kang is an author of young adult fiction, poetry, and narrative non-fiction. She is a practicing physician who has gained a reputation for helping fellow writers achieve medical accuracy in fiction. Her poetry and non-fiction have been published in JAMA, The Annals of Internal Medicine, Canadian Medical Association Journal, Journal of General Internal Medicine, and Great Weather for Media. She believes in science and knocking on wood, and lives in Omaha with her husband and three children.
or
Not Currently Available for Direct Purchase