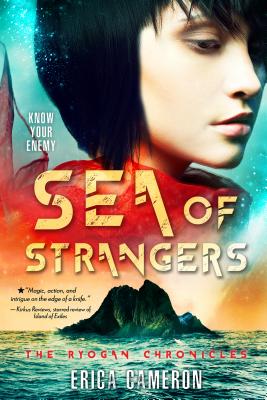 Sea of Strangers (The Ryogan Chronicles #2) (Paperback)
Entangled: Teen, 9781633758285, 384pp.
Publication Date: December 5, 2017
* Individual store prices may vary.
Description
The only way for Khya to get her brother back alive is to kill Varan—the immortal ruler who can't be killed. But not even Varan knew what he was doing when he perverted magic and humanity to become immortal.
Khya's leading her group of friends and rebels into the mountains that hold Varan's secrets, but if risking all their lives is going to be worth it, she has to give up everything else—breaking the spell that holds her brother captive and jeopardizing her deepening relationship with Tessen, the boy who has been by turns her rival and refuge since her brother disappeared. Immortality itself might be her only answer, but if that's where Khya has to go, she can't ask Tessen or her friends to follow.
The Ryogan Chronicles are best enjoyed in order.
Reading Order:
Book #1 Island of Exiles
Book #2 Sea of Strangers
About the Author
Erica is many things, but most notably a writer, reader, choreographer, movie and musical theater-nut, sucker for romance, and quasi-recluse. After graduating with a double major in psychology and creative writing from Florida State, she began pursuing her career as an author. She loves the beach but hates the heat, has equal passions for Salvador Dali, Venetian Carnival masks, unique jewelry, and dreams of traveling the world on a cruise ship. Or a private yacht. You know, whatever works.
Praise For Sea of Strangers (The Ryogan Chronicles #2)…
"This rare gem of a book has a lot to offer readers, including magic, action, and intrigue on the edge of a knife." — Kirkus Reviews, starred review of Island of Exiles

"Harrowing and heartfelt…Crackles with harsh magic and gripping suspense." — A.R. Kahler, author of The Immortal Circus series, on Island of Exiles