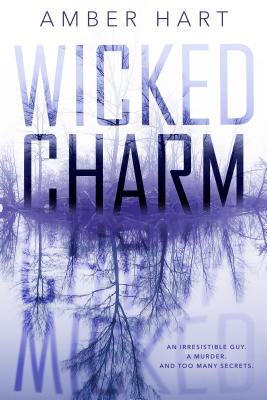 Wicked Charm
Paperback

* Individual store prices may vary.
Description
Nothing good comes from living in the Devil's swamp.
Willow Bell thinks moving to the Okefenokee area isn't half bad, but nothing prepares her for what awaits in the shadows of the bog.
Girls are showing up dead in the swamp. And she could be next.
Everyone warns Willow to stay away from Beau Cadwell—the bad boy at the top of their suspect list as the serial killer tormenting the small town.
But beneath his wicked, depthless eyes, there's something else that draws Willow to him.
When yet another girl he knew dies, though, Willow questions whether she can trust her instincts…or if they're leading to her own death.
Praise For Wicked Charm…
5 stars: "Atmospheric, lush, and razor-edged, this romance is the best sort of trouble—the kind that keeps you up reading all night long. " —Jenna Marie Thorne, author of The Wrong Side of Right

4.5 stars: "When I started reading this it reminded me of Beautiful Creatures, however, this mystery was like nothing I've read before and I was hooked on every page. I love the swamp setting and the suspense." –Danielle, Chapters Through Life
5 stars: "From page one to the end, Hart offers up another irresistible read that will keep the reader guessing and rapidly turning the pages." –Heather Smith Meloche, author of Ripple
4.5 stars: "It had everything it needed to be a very good book. An amazing romance, fast paced suspense and great character development. I'm going to keep a close eye on this author because this book was simply amazing!" –Lena, The Printed Girl
4 stars: "Solid romantic suspense. I loved the swamp, the characters, and the Southern Gothic atmosphere." –Outlaw Poet
5 stars: "Wicked Charm is the perfect balance of dark and eerie paired with romantic and suspenseful. It's completely addictive and enthralling and one of the best young adult contemporaries I've ever read." –Kristina, Kristina's Books & More

4 stars: "If a sultry southern romance with serial killers, gators, and snakes is your glass of sweet tea, then this novel is the perfect read for you." –Erica, Goodreads Reviewer
5 stars: "Her narration and description of the swampland will pull you directly into the setting and make you feel like you are truly there with Willow and Beau." –M.C. Chronister, Tolkien & Company
4 stars: "Wicked Charm unfolds at a Southern pace a tale of two souls grown deep in the Georgia swamp as history, circumstance, and gruesome murders draw them together like a moth to a flame. Both wicked and charming this story is one that will seep into your skin like a Southern summer and stick like beads of sweat rolling down your neck." –Angela, Pooled Ink Reviews
5 stars: "I am in love with this book and I highly recommend checking it out!" –Madison, Stylish Brunette
4 stars: "This story was so atmospheric, I could feel the stickiness of the swamp. The setting is similar to The Beautiful Creatures and Heirs of Watson Island series and the setting of the swamp becomes its own character." –Erika, Goodreads Reviewer
Entangled: Teen, 9781633758964, 304pp.
Publication Date: January 30, 2018
About the Author
Amber Hart resides on the Florida coastline with family and a plethora of animals she affectionately refers to as her urban farm. When unable to find a book, she can be found writing, daydreaming, or with her toes in the sand. She's the author of the Before & After series and the Untamed series. Rep'd by Stacey Donaghy of Donaghy Literary Group.
or
Not Currently Available for Direct Purchase