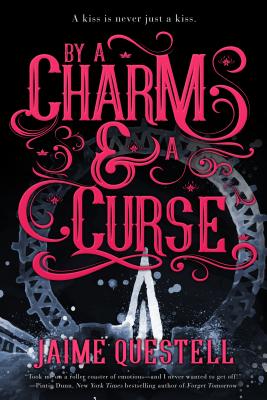 By a Charm and a Curse
Hardcover

* Individual store prices may vary.
Other Editions of This Title:
MP3 CD (4/23/2019)
Compact Disc (4/23/2019)
Description
A Kirkus Reviews Best Indie Book of 2018
A kiss is never just a kiss.
Le Grand's Carnival Fantastic isn't like other traveling circuses. It's bound by a charm, held together by a centuries-old curse, that protects its members from ever growing older or getting hurt. Emmaline King is drawn to the circus like a moth to a flame…and unwittingly recruited into its folds by a mysterious teen boy whose kiss is as cold as ice.
Forced to travel through Texas as the new Girl in the Box, Emmaline is completely trapped. Breaking the curse seems like her only chance at freedom, but with no curse, there's no charm, either—dooming everyone who calls the Carnival Fantastic home. Including the boy she's afraid she's falling for.
Everything—including his life—could end with just one kiss.
Praise For By a Charm and a Curse…
Starred Review: "A dark idea for a YA story, executed deftly and with feeling." —Kirkus Reviews
"A real page-turner! I was so charmed by this book filled with mystery and magical mayhem that I wasn't able to put it down until the end." —Brenda Drake, New York Times bestselling author
"What a ride! From the very first page, By a Charm and a Curse took me on a roller coaster of emotions—and I never wanted to get off!" —Pintip Dunn, New York Times bestselling author
5 stars: "Once I picked this one up I simply couldn't put it down until finished with it's fast pace and unique story."—Carrie, Carrie's Book Reviews
5 stars: "It's Pinocchio meets Alice in Wonderland only darker." —Danielle, Chapters Through Life
5 stars: "If you can't tell, I really enjoyed this one. It's not out for a few months, but it's definitely worth a look." —Kirsti, Goodreads Reviewer
5 stars: "Author Jaime Questell's writing is flawless. This is a nail-biting page turner worthy of the sleep you'll miss while seeing it through to the end." —Jessica, Dreamer J's Book Reviews
5 stars: "I found the book enchanting from the very beginning and immediately fell in love with the characters of Benjamin and Emmaline[.]" —Sandra, Jeanz Book Read n Review
5 stars: "[I]t is unique tale and stands apart from the others with a distinct and fresh storyline. I would highly recommend this novel for anyone who loves magical stories with a touch of romance." —Erica, Goodreads Reviewer
5 stars: "I have to say it exceeded my expectations. The circus part reminded me of The Night Circus (Erin Morgenstern), which is a book I loved, but the story is simpler, the characters less complicated. However, that does not mean it is any less charming." —Lola, Lola et La Vie
5 stars: "With each chapter from a different character perspective, it kept the story flowing and you didn't miss a thing! Would read this book over and over!" —Cynthia, Goodreads Reviewer
5 stars: "I loved everything about this book-the writing style, the characters and of course the setting. I thought it was an extremely well written, original and enchanting story. It had its hooks on me from the 1st paragraph." —Sharon, Netgalley Reviewer
5 stars: "I would highly recommend this to fans of carnival books. This one was done in such a unique way, it won't feel like you've been to this carnival before." —Kristi, Boston Book Reader
Entangled: Teen, 9781633759008, 306pp.
Publication Date: February 6, 2018
About the Author
JAIME QUESTELL grew up in Houston, Texas, where she escaped the heatand humidity by diving into stacks of BabySitter's Club and SweetValley High books. She has been a book seller (fair warning: booklovers who become book sellers will give half their paychecks right back totheir employers), a professional knitter, a semi-professional baker, and nowworks as a graphic designer in addition to writing.
or
Not Currently Available for Direct Purchase