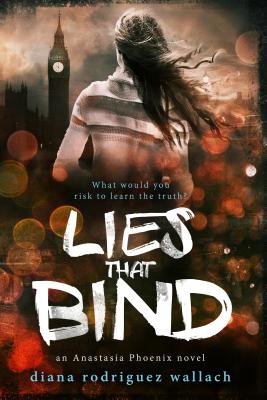 Lies That Bind (Anastasia Phoenix #2) (Paperback)
Entangled: Teen, 9781633759022, 322pp.
Publication Date: March 6, 2018
* Individual store prices may vary.
Description
What do you do when you learn your entire childhood was a lie?
Reeling from the truths uncovered while searching for her sister in Italy, Anastasia Phoenix is ready to call it quits with spies. The only way to stop being a pawn in their game is to remove herself from the board. But before she can leave her parents' crimes behind her, tragedy strikes. No one is safe, not while Department D still exists.
Now, with help from her friends, Anastasia embarks on a dangerous plan to bring down an entire criminal empire. From a fire-filled festival in England to a lavish wedding in Rio de Janeiro, Anastasia is determined to confront the enemies who want to destroy her family. But even Marcus, the handsome bad boy who's been there for her at every step, is connected to the deadly spy network. And the more she learns about Department D, the more she realizes the true danger might be coming from someone closer than she expects…
The Anastasia Phoenix series is best enjoyed in order.
Reading Order:
Book #1 Proof of Lies
Book #2 Lies That Bind
Book #3 End of the Lie
About the Author
Diana Rodriguez Wallach is the author of three award-winning young adult novels: Amor and Summer Secrets, Amigas and School Scandals, and Adios to All The Drama, as well as Mirror, Mirror, a YA short-story collection based on the Narcissus myth. In 2010 Diana was named one of the Top Ten New Latino Authors to Watch by LatinoStories.com, and she placed second in the International Latino Book Awards. In June, Diana will begin her new position as Creative Writing Teacher for Johns Hopkins University's Center for Talented Youth.
Praise For Lies That Bind (Anastasia Phoenix #2)…
5 stars: "This was such an epic sequel to Proof of Lies and I would recommend it to fans of mystery, thrillers, The Godfather, and romance. This story is also about placing your feet back on the ground even though it feels like it's been ripped out from underneath you." —Bethany, YA Books Central

4 stars: "The story is also about discovering who you are and not accepting defeat! What are you waiting for go out and buy both of these books right now! You will not be disappointed!!!!" —Bran Pendergrass, One Last Chapter

5 stars: "I am in love with this book and I highly recommend checking it out!" —Madison, Stylish Brunette
4 stars: "This book is great for anyone who likes spy/espionage mixed into young adult." —Kristi, Confessions of a YA Reader
4 stars: "More lies, mysteries, intrigue, world travel and danger and murder are in this second book in the series. [...] I enjoyed this second book in the series and look forward to the next one!" —Dana, Goodreads Reviewer
5 stars: "I look forward to seeing what Anastasia will do next!" —Olivia Farr, Goodreads Reviewer
4 stars: "Lies that Bind is described as being like the Bourne Identity meets Italian Job. I agree that this is a good way to describe this book. It's corrupt and you have to be careful who you trust." —Danielle, Chapters Through Life
4 stars: "Lies that Bind was an exciting sequel! It was mysterious, filled with wonderful characters that progressed throughout the book and the ending that leaves you satisfied but also wanting more." —Sharon, Obsession with Books
4 stars: "The 2nd book of Anastasia Phoenix was adventurous, agonizing, subversive, dramatic and once again i love it!!!!" —Lina, Goodreads Reviewer

5 stars: "Damn this book is awesome. Anastasia doesn't disappoint in this second book." —Emmyjo, The Book Slayer77