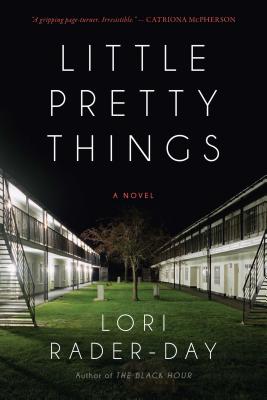 Little Pretty Things (Paperback)
Seventh Street Books, 9781633880047, 303pp.
Publication Date: July 7, 2015
Other Editions of This Title:
Compact Disc (8/28/2018)
Compact Disc (8/28/2018)
MP3 CD (8/28/2018)
* Individual store prices may vary.
Description
Mary Higgins Clark Award Winner! OLD RIVALRIES NEVER DIE. BUT SOME RIVALS DO. Juliet Townsend is used to losing. Back in high school, she lost every track team race to her best friend, Madeleine Bell. Ten years later, she's still running behind, stuck in a dead-end job cleaning rooms at the Mid-Night Inn, a one-star motel that attracts only the cheap or the desperate. But what life won't provide, Juliet takes. Then one night, Maddy checks in. Well-dressed, flashing a huge diamond ring, and as beautiful as ever, Maddy has it all. By the next morning, though, Juliet is no longer jealous of Maddy—she's the chief suspect in her murder. To protect herself, Juliet investigates the circumstances of her friend's death. But what she learns about Maddy's life might cost Juliet everything she didn't realize she had.
About the Author
Lori Rader-Day, author of The Black Hour and Little Pretty Things, is a two-time Mary Higgins Clark Award nominee and the recipient of the 2014 Anthony Award for Best First Novel. Lori's short fiction has appeared in Ellery Queen Mystery Magazine, Time Out Chicago, Good Housekeeping, and others. She lives in Chicago, where she teaches mystery writing at StoryStudio Chicago and serves as the president of the Mystery Writers of America Midwest Chapter. Her third novel will be released by Harper Collins William Morrow in spring 2017.
Praise For Little Pretty Things…
Winner! Mary Higgins Clark Award 2016

Winner! Eugene and Marilyn Glick Indiana Authors Award - Regional Category

Nominee for the 2016 Anthony Award for Best Paperback Original

"Rader-Day again proves herself a deft manipulator of dark atmosphere, witty dialogue, and complex, charismatic characters. Highly recommended for psychological thriller groupies, especially those who walk on the literary side of the genre and favor books like Tana French's Faithful Place and Cornelia Read's Madeline Dare series."

—BOOKLIST, STARRED REVIEW

"Pack this one in your beach bag and get your book clubs ready - I think we've found this year's hottest summer title!"

—OVERDRIVE

"[A] well-written, atmospheric mystery…. Rader-Day elevates this book from a…murder mystery to a close examination of teenage girls, friendship, competition, and the damage festering secrets can do…. Fans of straight mysteries and young adult readers of any age will appreciate Rader-Day's adept handling of teen issues even as she looks at them from ten years down the road."

—FOREWORD REVIEWS

"As a small town gears up for the ten-year reunion of the class that brought track-team glory, there's a thin skin of expectation over a well of melancholy a mile deep. Juliet Townsend has been in limbo since graduation, but now the return and shocking murder of her rival, Maddy Bell, offers an unexpected second chance at living. An atmospheric unpeeling of painful secrets, Little Pretty Things will resonate with everyone who has ever been a girl in trouble or ever tried to save one. A serious message skillfully wrapped in a gripping page-turner. Irresistible."
 
—CATRIONA McPHERSON, Anthony, Agatha, Macavity, and Bruce Alexander Award–winning author of the Edgar® nominated The Day She Died

"Little Pretty Things is a page-turning thriller wrapped around the unsettling reality of friendship turned to rivalry, and painful secrets that won't stay hidden. You know a Juliet Townsend (or are one)—the smart, funny, also-ran who should have done great things but didn't. You'll read the book just to spend time with her—and find yourself drawn into a dark reminder that time doesn't heal all wounds."
 
—CLARE O'DONOHUE, author of Missing Persons

"A searing, psychological suspense novel about small-town dreams shattered by a deadly secret." 

—TERRY SHAMES, Macavity Award–winning author of A Killing at Cotton Hill

"Lori Rader-Day's Little Pretty Things will wrap its fingers around your throat, and you'll know you're in the clutches of a master storyteller. Little Pretty Things is that rare curio: a book you wish you had written yourself. A book you'd like to steal with an obsessive, itchy hand."
 
—JAMES W. ZISKIN, author of Cast the First Stone
  
"Absorbing. . . . Lori Rader-Day weaves a suspenseful tale with sparks of humor and gems of thought-provoking wisdom. Little Pretty Things will leave you rooting not only for Juliet Townsend's metamorphosis but also for the redemption of gloomy, hometown America."
 
—HEATHER WEBB, author of Rodin's Lover

"Little Pretty Things will have you turning pages faster than the cars zipping by on the interstate. A gripping tale of old wounds, dark secrets, and the simmering regrets of those left behind, this is psychological suspense at its finest." 

—LYNNE RAIMONDO, author of Dante's Dilemma

Praise for The Black Hour:

WINNER! ANTHONY AWARD: BEST FIRST NOVEL!
WINNER! 2015 LOVEY AWARD FOR BEST FIRST NOVEL 
2015 MARY HIGGINS CLARK AWARD NOMINEE! 
LEFT COAST CRIME ROSEBUD AWARD - BEST DEBUT MYSTERY NOMINEE! 
2015 BARRY AWARD – BEST PAPERBACK ORIGINAL NOMINEE!

"An exceptional debut.... An irresistible combination of menace, betrayal, and self-discovery."
—Publishers Weekly STARRED REVIEW 

"Captivates from page one.... This reviewer was bowled over by the novel's alternating points of view, superb storytelling, and pitch-perfect take on academia."
—Library Journal STARRED REVIEW and Mystery Debut of the Month

"An unputdownable read."
—Booklist STARRED REVIEW 

"This first novel about two broken people is a psychological thriller like the best of Alfred Hitchcock. . . . Riveting and full of surprising discoveries. Highly recommended."
—LibraryReads #3 pick for July 2014

"Addictive.... A perfect thriller for the summer."
—BookPage

"An unusual protagonist, a timely crime, and outstanding writing make Lori-Rader-Day's The Black Hour a stand-out debut."
—SARA PARETSKY, Mystery Writers of America Grand Master and New York Times bestselling author