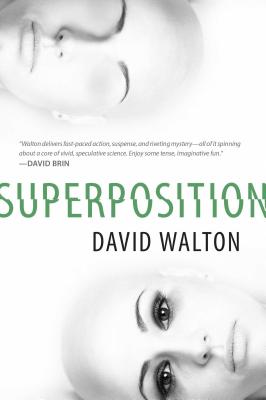 Superposition (Paperback)
Pyr, 9781633880122, 303pp.
Publication Date: April 7, 2015
Other Editions of This Title:
Paperback (9/1/2015)
MP3 CD (10/27/2015)
MP3 CD (5/24/2016)
* Individual store prices may vary.
Description
A QUANTUM PHYSICS MURDER MYSTERY. A Mind-Bending, Near-Future, Science Fiction Technothriller. Jacob Kelley's family is turned upside down when an old friend turns up, waving a gun and babbling about an alien quantum intelligence. The mystery deepens when the friend is found dead in an underground bunker…apparently murdered the night he appeared at Jacob's house. Jacob is arrested for the murder and put on trial. As the details of the crime slowly come to light, the weave of reality becomes ever more tangled, twisted by a miraculous new technology and a quantum creature unconstrained by the normal limits of space and matter. With the help of his daughter, Alessandra, Jacob must find the true murderer before the creature destroys his family and everything he loves.
About the Author
David Walton is the author of Quintessence (Tor Books, 2013) and the Philip K. Dick award-winning novel Terminal Mind. He lives near Philadelphia with his wife, seven children, and three hamsters. By day, he works on classified defense technology, which not even the hamsters are allowed to know about. David's fiction explores themes that skirt the edges of science and religion, such as human origins, the nature of truth, the certainty of death, and the nature of the soul.
Praise For Superposition…
"[An] engrossing and illuminating sci-fi thriller…. This is the way sci-fi ought to be."
—WALL STREET JOURNAL
 
"An expanding universe of delight."
—WASHINGTON POST
 
"Gripping, suspenseful and original, this is a page-turning novel that readers are sure to devour. Fantastic"
 —RT BOOK REVIEWS

"An utterly addictive murder mystery with a fantastic twist…. A cleverly thought-out bit of sci-fi fun."
—STARBURST MAGAZINE

"A truly fascinating approach to thriller writing.… The story's strength lies in its ingenious structure that neatly unfolds against an impressive backdrop of science."
—THE BIG THRILL
 
"Walton delivers fast-paced action, suspense, and riveting mystery—all of it spinning about a core of vivid, speculative science. Enjoy some tense, imaginative fun."
—DAVID BRIN, PhD, Hugo and Nebula Award-winning author of Existence

"David Walton is one of our very best writers of science-fiction thrillers."
—ROBERT J. SAWYER, Hugo Award-winning author of Quantum Night

"David Walton takes a huge leap of imagination and spins an engaging, sometimes dizzying, web of 'What if?'"
 
—STANLEY SCHMIDT, author and long-time editor of Analog Science Fiction and Fact

"Superposition is a wild ride into the quantum world, a fabulous twist on the murder mystery. In Walton's hands, physics comes to life, literally! Like nothing you've ever read before."  
—WILL McINTOSH, Hugo Award-winning author of Defenders 

"A mind-bending science fiction murder mystery that will appeal to fans of Michael Crichton and Philip K. Dick. I devoured it in one sitting."
—TINA CONNOLLY, Nebula Award nominee and author of Silverblind

"Superposition is a fine blending of high-tech science fiction and the mystery novel, a concept that Isaac Asimov might have come up with were he alive today."
—MIKE RESNICK, Hugo Award-winning author of The Fortress in Orion and the Eli Paxton mystery series

"A fast, fun, immersive mystery in the quantum realm. Walton's captivating writing will draw you in, the murder mystery will keep you reading, and you'll finish with a better understanding of quantum physics."
—WILLIAM HERTLING, author of Turing's Exception

"The most thrilling and ingenious adventure in quantum physics you'll ever read!"
—JOEL SHEPHERD, author of Originator: A Cassandra Kresnov Novel