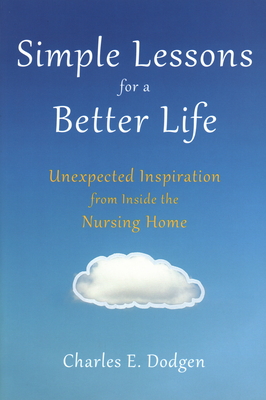 Simple Lessons for A Better Life
Unexpected Inspiration from Inside the Nursing Home
Paperback

* Individual store prices may vary.
Description
From the unique experiences of nursing home residents, an empathic psychologist derives lessons for living a better life, demonstrating how people find happiness, peace, and fulfillment despite challenging circumstances.
 
Perfect for readers who seek inspiration for living a better life at any age and who enjoy books on inspiration/motivation, wellness, psychology, self-improvement, wellness, and issues of aging.
 
The desire to live a good life is timeless. And, sometimes, insight into what really matters emerges from where we least expect it. Even the most challenging circumstances can have a surprise silver lining. 

This perceptive and inspiring book shows that anyone can learn valuable life lessons from the unique experiences of nursing home residents. Using illustrative vignettes of his interactions with people facing serious physical, mental, and social challenges, the author derives twenty-eight simple, yet profoundly important, lessons for living a richer life—lessons that apply to people at any age.

Dr. Dodgen, a clinical psychologist who has worked with this population for eighteen years, has discovered that when the surplus trappings of lifestyle are cleared away and lives are stripped to their most essential components, people discover new paths to happiness, peace, and fulfillment. Dodgen shares stories that demonstrate how love, meaning, purpose, and contentment can be found even in far-from-ideal circumstances. 

Offering deeply thoughtful reflections in an easily digestible format, this book affirms that no matter our physical, economic, or social limitations, we can remain rich in life. Readers looking for ways to improve relationships, understand and manage feelings more effectively, cope well with challenges, mitigate suffering, and discover greater serenity in their own life circumstances will find a wealth of insights in these concise, enlightening chapters.
Praise For Simple Lessons for A Better Life: Unexpected Inspiration from Inside the Nursing Home…
"A clear and concise gem, espousing salient themes extrapolated from older persons and demonstrating how cognizance of, and compassion for, later-in-life occurrences provide a means to survive and thrive at any age…. Dodgen provides a user-friendly blueprint for better living…. Immensely inspirational and deeply moving."

—New Jersey Psychologist

"An inspiring book that is well worth reading."

—Bookviews by Alan Caruba

"[Dodgen's] insights reminded me of those of another wise student of life...Rabbi Harold Kushner, the author of When Bad Things Happen to Good People.... So what did [Dodgen] learn from these men and women, who, it might seem were themselves victims of a painful brand of what he aptly called "identity theft"? That while your body may be surrendering, your soul and spirit don't have to. That a great attitude will reflect like a mirror, back to you from others. And most dramatic, says this therapist author, he's learned that in some ways suffering is actually optional...one of the profound lessons...So deceptively simple--and so true. Love is an unchanging, essential ingredient at every stage of life."

—Burlington County Times

"Dodgen's conversational tone and personal anecdotes make his pointers thought-provoking without being preachy…. This compilation of common sense and insight gently reminds readers to look for the feelings beneath the words and to read body language, which is darn good advice for any social interaction."

—Booklist

"Nuanced…. Being reminded to strive to live ethically, cleanly and kindly is always welcome. And Dodgen does so with grace and experience."

—Newark Star-Ledger

"A refreshing and life-affirming book that lets nursing-home residents speak for themselves. Their words, along with Dodgen's insightful commentary, give readers the gift of mindfulness, resiliency, kindness, and compassion."

—Janet Yagoda Shagam, PhD, freelance medical and science writer, and author of An Unintended Journey
Prometheus Books, 9781633880160, 288pp.
Publication Date: May 5, 2015
About the Author
Charles E. Dodgen, Ph.D., has been a clinical psychologist in private practice for twenty-eight years. For the past eighteen years, he has also served as a consulting psychologist at the West Caldwell Care Center, where he provides diagnostic assessments and individual therapy for a geriatric population. He is also the author of three books on substance abuse.
or
Not Currently Available for Direct Purchase