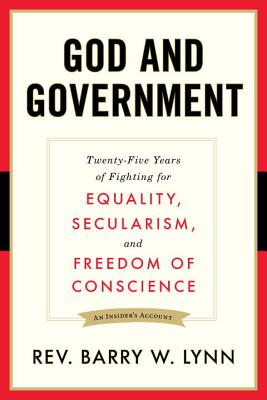 God and Government (Paperback)
Twenty-Five Years of Fighting for Equality, Secularism, and Freedom Of Conscience
Prometheus Books, 9781633880245, 334pp.
Publication Date: August 4, 2015
* Individual store prices may vary.
Description
A central player in every major church-state-separation battle for decades, the Rev. Barry W. Lynn understands the complexities of this divisive issue like few others. As a long-time activist, a civil rights lawyer, and an ordained minister in the United Church of Christ, he offers a unique perspective and a wealth of experience on church-state controversies. In this lively book, he has compiled his writings from various sources to explore in depth the many ways religious extremists have attempted to erode individual liberties.

The topics range from publicly-promoted prayer to efforts to undermine public education and replace it with taxpayer-subsidized vouchers for religious schools, interfering with end-of-life and reproductive rights, censorship, and belligerence directed against nonbelievers and minorities.

Lynn concludes that the ultimate goal of these extremist forces—consisting mainly of the Protestant Religious Right and the Roman Catholic hierarchy—is the creation of a corporate theocracy, a decidedly undemocratic system of government in which nonconservative Christians, along with humanist, feminists, and the LGBTQ community, are relegated to second-class status in America.
About the Author
The Rev. Barry W. Lynn has been the executive director of Americans United for Separation of Church and State since 1992. He is the author of Piety and Politics, The Right to Religious Liberty, and, most recently, First Freedom First (coauthored with C. Welton Gaddy). An accomplished speaker and lecturer, Lynn has appeared frequently in the media. News programs on which Lynn has appeared include PBS's NewsHour, NBC's Today Show, Fox News Channel's O'Reilly Factor, ABC's Nightline, CNN's Crossfire, CNN's Anderson Cooper 360, CBS's 60 Minutes, MSNBC's Countdown with Keith Olbermann, Fox News Channel's Hannity & Colmes, ABC's Good Morning America, CNN's Larry King Live, and the national nightly news on NBC, ABC, and CBS. On the radio, Lynn was the host of "Culture Shocks," a daily look at various issues affecting society and the culture. He writes frequently on religious liberty issues, and has had essays published in outlets such as USA Today, the Los Angeles Times, the Wall Street Journal, and the Nation.
Praise For God and Government: Twenty-Five Years of Fighting for Equality, Secularism, and Freedom Of Conscience…
"No one is more on top of the challenges facing the first amendment than Barry Lynn. We are lucky he is paying attention, for no one sees more clearly how important it is that our government and whatever religion you choose to practice remain separated. By doing so, he is one of those who are keeping the lamp of liberty lit. With intelligence, wisdom, humanity, and a devilish wit, Lynn makes the issues come alive, and thereby we all become wiser. It is a book you should grab and read. You won't regret it." 

— LEWIS BLACK, comedian

"This book is a must-read for feminists and for all Americans who support women's rights—especially reproductive rights. Increasingly 'religious liberty' is being used to block women's access to abortion and birth control. That is 'religious liberty' for everyone—employers, right-wing politicians, bishops—except women who need access. Barry Lynn knows all the tricks, twists, and turns of those who want to turn the clock back several centuries. When he speaks, I take notes. His insights from twenty-five years on the front lines are extremely valuable." 

— ELEANOR SMEAL, president of the Feminist Majority Foundation 

"Before I fled the religious right Barry Lynn would have been a deadly enemy. I'd have seen him as someone standing between us and the theocracy we were trying to turn America into. This book is literally a defense of freedom against the theocratic illness. As Lynn writes 'From cradle to grave, the Religious Right is concerned about every choice you make.' It is up to us to stop them from dominating every aspect of American life too. This book is a good place to start." 

— FRANK SCHAEFFER, author of Crazy for God
or
Not Currently Available for Direct Purchase