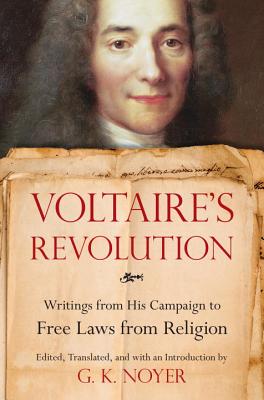 Voltaire's Revolution
Writings from His Campaign to Free Laws from Religion
Paperback

* Individual store prices may vary.
Description
Voltaire, the pen name of François-Marie Arouet (1694-1778), was one of the most influential leaders of the French Enlightenment. His defense of individual freedom of conscience and his criticisms of religious fanaticism and oppressive orthodoxy had a telling effect on Western history, inspiring several leading founders of America's new laws.

This is the first English translation of many of his key texts from his famous pamphlet war for tolerance, written from 1750 to 1768, originally published under pseudonyms to avoid imprisonment and to educate the average citizen. Included are "The Sermon of Rabbi Akib" (a searing attack on anti-Semitism),  "Prayer to God" (from the famous Treatise on Tolerance), the hugely popular "Catechism of the Honest Man," "The Dinner at Count Boulainvillier's," and other witty, sometimes acerbic pieces that point out the errors in the Bible, the corruption of the clergy, and the religiously-inspired persecutions, both of his day and across the ages. Many of these pamphlets were burned in a losing battle by the authorities.

With a lengthy introduction and copious notes by the editor and translator, plus an appendix including first-hand accounts of the battle by noted mathematician and French revolutionary Condorcet, Frederick the Great, Irish writer Oliver Goldsmith, and others, this excellent compilation will be a welcome addition to the libraries of anyone with an interest in human rights and freedom of thought.
Praise For Voltaire's Revolution: Writings from His Campaign to Free Laws from Religion…
"An essential book for Anglophones studying Voltaire, philosophy, and the separation of religion from government."

 -Portland Book Review

"I count myself as a Voltaire enthusiast but had never bothered to unearth some of these gems… No other book offers such a lively collection of Voltairian prose in so few pages."

-Facts & Arts

"It would be nice to think Voltaire's Revolution will add to the ranks of the admirers. If this much wit and brilliance (all very adroitly translated) can't manage that, probably nothing can."

-Open Letters Monthly
Prometheus Books, 9781633880382, 397pp.
Publication Date: July 14, 2015
About the Author
G. K. Noyer is a freelance writer and translator. She has worked as a script writer for French television programs, translated many more, and has also done translations for websites, art galleries, and museums.
or
Not Currently Available for Direct Purchase