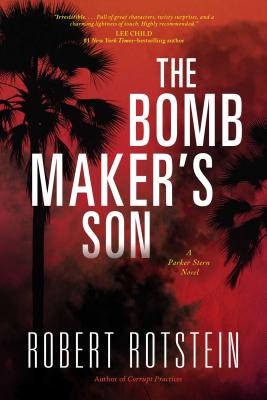 The Bomb Maker's Son (Paperback)
A Parker Stern Novel
Seventh Street Books, 9781633880443, 329pp.
Publication Date: June 9, 2015
* Individual store prices may vary.
Description
A fugitive from justice shows up on Parker Stern's doorstep, seeking representation. Ian Holzner—better known as the Playa Delta Bomber—is about to be arrested for allegedly planting a bomb that killed four people in 1975. Parker turns down the case, until the revelation of a startling secret from Parker's estranged mother all but forces him, against his better judgment, to change his mind.

As media attention swirls around the reemerged Playa Delta Bomber, a bomb explodes and other violent acts occur. Is Holzner the mastermind behind these new attacks? At great personal risk, Parker tries to uncover the truth, all while discovering long-hidden, painful realities about his family and his own past.
About the Author
Robert Rotstein, an entertainment attorney with over thirty years' experience, is the author of the Parker Stern novels Corrupt Practices and Reckless Disregard. He's represented all of the major motion picture studios and many well-known writers, producers, directors, and musicians. He lives in Los Angeles, California.
Praise For The Bomb Maker's Son: A Parker Stern Novel…
"Irresistible. . . . Full of great characters, twisty surprises, and a charming lightness of touch. Highly recommended."

—LEE CHILD, #1 New York Times–bestselling author

"Explosive.... Memorable characters and themes that are just as timely today as they were in the '70s help make this a deeply satisfying page-turner."

—PUBLISHERS WEEKLY

"I'm a big fan of the Parker Stern novels, and The Bomb Maker's Son might be the best yet. . . . The characters are fresh and well developed, the plots are intricate, and there are always multiple twists to keep me reading frantically to the very last page. Put this at the top of your to-read list. Put the whole series at the top of your to-read list."

—ROBERT DUGONI, New York Times–bestselling author of My Sister's Grave

"High on action and plot twists…. A solid series with an unusual premise, and it has built a substantial following."

—BOOKLIST

"With a hero chasing his own shadowy instincts and duplicity everywhere, this story lingers long after the last page. The storytelling is intense—the plot building layer upon tense layer."
 
—STEVE BERRY, New York Times–bestselling author of The Patriot Threat

"A series of firecrackers and depth charges that go right on detonating after the defense rests."

—KIRKUS REVIEWS

"The Bomb Makers Son is fast-moving with more than one surprise and enough moral dilemmas to fill up a law school exam."

—PHILLIP MARGOLIN, New York Times–bestselling author of Woman with a Gun

"Law and disorder rule in Robert Rotstein's riveting thriller where what happens in the '70s doesn't stay in the '70s. A smooth story with a strong finish."
 
—JULIE KRAMER, national bestselling author of Delivering Death

PRAISE FOR THE PARKER STERN NOVELS:

Reckless Disregard:

"Endless novelties, endless twists, endless complications, endless surprises in and out of the courtroom. Whatever you read legal drama for, it's here, along with a whole lot of other stuff you never thought to ask for."
—Kirkus Reviews STARRED REVIEW 

"Stern is a wonderfully complex hero in an occupation that forces him to combat his limitations. And this novel's action really puts the 'thriller' in legal thriller."
—Booklist STARRED REVIEW 

Corrupt Practices:

"This is a terrific book. Just terrific. Robert Rotstein has come up with a fresh take on the legal thriller and he does a first-rate job. Parker Stern is a complex and well-developed protagonist and the story is beautifully structured for maximum intrigue and suspense."  
—SUE GRAFTON, #1 New York Times–bestselling author

"A tautly constructed, fast-moving narrative with an appealing protagonist.... This promises to be a compelling series for legal-thriller fans. Get in at the start."
—Booklist STARRED review