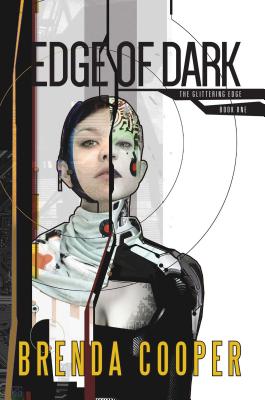 Edge of Dark (The Glittering Edge #1)
Paperback

* Individual store prices may vary.
Other Editions of This Title:
MP3 CD (4/6/2016)
Compact Disc (4/6/2016)
Compact Disc (4/6/2016)
Description
What if a society banished its worst nightmare to the far edge of the solar system, destined to sip only dregs of light and struggle for the barest living. And yet, that life thrived? It grew and learned and became far more than you ever expected, and it wanted to return to the sun. What if it didn't share your moral compass in any way? The Glittering Edge duology describes the clash of forces when an advanced society that has filled a solar system with flesh and blood life meets the near-AI's that it banished long ago. This is a story of love for the wild and natural life on a colony planet, complex adventure set in powerful space stations, and the desire to live completely whether you are made of flesh and bone or silicon and carbon fiber. In Edge of Dark, meet ranger Charlie Windar and his adopted wild predator, and explore their home on a planet that has been raped and restored more than once. Meet Nona Hall, child of power and privilege from the greatest station in the system, the Diamond Deep. Meet Nona's best friend, a young woman named Chrystal who awakens in a robotic body….
Praise For Edge of Dark (The Glittering Edge #1)…
Winner! 2016 Endeavour Award 

Finalist: 2016 Philip K. Dick Award

"Playing God is dangerous: Edge of Dark is an intelligent, thoughtful look at what it might mean to coexist with superior AIs that we ourselves have created.  Brenda Cooper's universe is detailed, inventive, and ultimately dazzling.  I will remember Chrystal for a very long time."
 
—NANCY KRESS, winner of multiple Hugo and Nebula awards

"Edge of Dark is bold, immersive, boundary-pushing sci-fi; a new breed of transhuman space opera. It asks all the right questions: What's the line between human and posthuman? How would immensely enhanced creatures treat mere humans? And how would we baseline humans view them—as our successors, our future selves, or our exterminators? Whatever opinion you enter this book with, it'll surprise you. Read it." 
—RAMEZ NAAM, author of Nexus and Crux

Praise for previous books by Brenda Cooper:

"What The Creative Fire does, and does well, is marry the character-driven focus of Cooper's writing with an intriguing protagonist, a well thought out setting and spins a fascinating story."--SF Signal 

"I loved The Diamond Deep. Excellent writing, fabulous story, and an emotional punch that leaves you wishing that Cooper wrote faster. Damned fine storytelling." --J. A. Pitts, author of Forged in Fire
Pyr, 9781633880504, 399pp.
Publication Date: March 3, 2015
About the Author
Brenda Cooper is the author of The Creative Fire and The Diamond Deep, Books One and Two of Ruby's Song, and the The Silver Ship series. The Silver Ship and the Sea, was selected by Booklist as one of the top ten 2007 adult books for youth to read. The other books in the series are Reading the Wind and Wings of Creation. She is the author of Mayan December and has collaborated with Larry Niven (Building Harlequin's Moon). Brenda is a working futurist and a technology professional with a passionate interest in the environment.