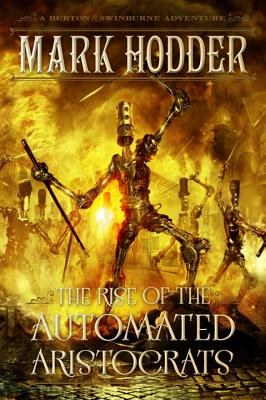 The Rise of the Automated Aristocrats
A Burton & Swinburne Adventure
Paperback

* Individual store prices may vary.
Other Editions of This Title:
MP3 CD (8/9/2016)
Description
Sir Richard Francis Burton's expedition has returned from the future, bringing with it knowledge of technologies that must remain secret if history is to proceed as it should. However, when one of his colleagues turns rogue, the secret falls into the hands of the very people most likely to misuse it.

Betrayed, Burton and Swinburne watch in horror as the Empire's elite employ the technology to secure their positions of privilege. When London's parks are transformed into concentration camps, artists and philosophers are declared enemies of the State, and propaganda proliferates, the king's agent finds himself on the wrong side of—the king!

Can Burton and his band of hunted revolutionaries overthrow an apparently indestructible and immortal autocrat ... and if so, at what personal cost?

The Spring Heeled Jack saga reaches its explosive conclusion!


From the eBook edition.
Praise For The Rise of the Automated Aristocrats: A Burton & Swinburne Adventure…
"Mark Hodder will challenge your ideas about steampunk. He writes like Charles Dickens shaken awake by quantum theory or Jules Verne on acid. This is an amazingly satisfying adventure shot through with stunning science, merciless satire, and a genuinely touching story of human impermanence."
 
—CLAY AND SUSAN GRIFFITH, authors of the Vampire Empire series and the Crown & Key series

"Hodder's writing evokes the haunting tone and sensibilities of an earlier age, as seen through the eyes of an old soul. I highly recommend following these adventures of Sir Richard Francis Burton."
 
—JON SPRUNK, author of Storm and Steel


Praise for The Return of The Discontinued Man:

"There's more than enough adventure, intrigue, invention, fun and engagement to satisfy everybody." --Kirkus Reviews 

"Hodder puts his knack for tall-tale spinning on full display...in one imaginative and enthralling scenario after another. Hodder's growing legion of fans won't be disappointed." --Booklist 

Praise for The Secret of Abdu El Yezdi:

"For fans of intelligence, steampunk, and multiple timeline stories, Hodder promises and delivers."
--SF Site

"Serious literary fun as Mark Hodder vaults to the front of the new steampunk writers pack.... Hard to imagine any lover of alternate British empires not being thoroughly amazed and entertained." 
-- K. W. JETER, author of Infernal Devices and Fiendish Schemes
Pyr, 9781633880528, 383pp.
Publication Date: August 11, 2015
About the Author
Mark Hodder is the author of A Red Sun Also Rises and the Burton & Swinburne novels The Strange Affair of Spring Heeled Jack, The Curious Case of the Clockwork Man, Expedition to the Mountains of the Moon, The Secret of Abdu El Yezdi, and The Return of the Discontinued Man. A former BBC writer, editor, journalist, and web producer, Mark left London, England, for Valencia, Spain, to de-stress and write novels. He has a degree in cultural studies and loves British history, good food, cutting-edge gadgets, Tom Waits, and a vast assortment of oddities. He's the creator and caretaker of the Blakiana website celebrating Sexton Blake, the most written-about fictional detective in English publishing history.


From the eBook edition.
or
Not Currently Available for Direct Purchase