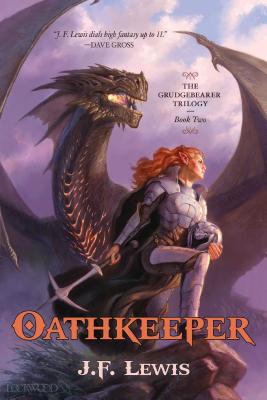 Oathkeeper (The Grudgebearer Trilogy #2)
Paperback

* Individual store prices may vary.
Description
Rae'en has taken her father's place as First of the practically immortal Aern, a race created by the Eldrennai as warrior-slaves to defend them from the magic-resistant reptilian Zaur. Freed from all Oaths by Kholster's death, Rae'en decides to wage war on the Eldrennai anyway out of rage and grief. The war between the Eldrennai and Zaur has begun. Bloodmane, leader of the now independent mystic-warsuits, has underestimated both the sheer numbers of the Zaur and their field leader General Tsan. As the warsuits prepare to assist the Eldrennai in the defense of their Watch cities, the Zaur warlord, Xastix, launches the bulk of his forces at the Vael in an attempt to cut off all outside help. Prince Rivvek, having been accepted as an Aiannai (Oathkeeper) before Kholster's death must claim the Eldrennai throne by completing the Test of Four so that he can enact his plan to save as much of his kingdom as possible. Meanwhile, his brother Prince Dolvek hatches a plot to enlist the aid of the plant-like Vael to defeat the Zaur horde who are in league with the decapitated head of a dethroned deity.
Praise For Oathkeeper (The Grudgebearer Trilogy #2)…
"Outstanding…one of the most uniquely layered and complex universes since Frank Herbert's Dune."

—Starburst Magazine


Praise for Grudgebearer:

"I love this book. It is so well constructed and so well thought out. I cannot wait for the next one!"  
—You Gotta Read Reviews 

"An outstanding opening act."
—Midwest Book Review

"Many refreshingly strong and complex female characters in this nuanced fantasy epic... which features a particularly interesting and thoughtful exploration of slavery."
—Publishers Weekly
Pyr, 9781633880542, 381pp.
Publication Date: June 9, 2015
About the Author
J.F. Lewis is the author of The Grudgebearer Trilogy and The Void City series and thinks it's pretty cool that his books have been translated into other languages. He doesn't eat people, but some of his characters do. After dark, he can usually be found typing into the wee hours of the morning while his wife, kids, and dog sleep soundly.
or
Not Currently Available for Direct Purchase