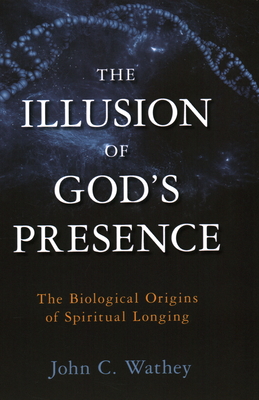 The Illusion of God's Presence
The Biological Origins of Spiritual Longing
Hardcover

* Individual store prices may vary.
Description
An essential feature of religious experience across many cultures is the intuitive feeling of God's presence. More than any rituals or doctrines, it is this experience that anchors religious faith, yet it has been largely ignored in the scientific literature on religion.

Starting with a vivid narrative account of the life-threatening hike that triggered his own mystical experience, biologist John Wathey takes the reader on a scientific journey to find the sources of religious feeling and the illusion of God's presence. His book delves into the biological origins of this compelling feeling, attributing it to innate neural circuitry that evolved to promote the mother-child bond. Dr. Wathey, a veteran neuroscientist, argues that evolution has programmed the infant brain to expect the presence of a loving being who responds to the child's needs. As the infant grows into adulthood, this innate feeling is eventually transferred to the realm of religion, where it is reactivated through the symbols, imagery, and rituals of worship. The author interprets our various conceptions of God in biological terms as illusory supernormal stimuli that fill an emotional and cognitive vacuum left over from infancy. 

These insights shed new light on some of the most vexing puzzles of religion, like the popular belief in a god who is judgmental and punishing, yet also unconditionally loving; the extraordinary tenacity of faith; the greater religiosity of women relative to men; religious obsessions with sex; the mysterious compulsion to pray; the seemingly irrepressible feminine attributes of God, even in traditionally patriarchal religions; and the strange allure of cults. Finally, Dr. Wathey considers the hypothesis that religion evolved to foster reproductive success, arguing that, in an age of potentially ruinous overpopulation, magical thinking has become a luxury we can no longer afford, one that distracts us from urgent threats to our planet.

Deeply researched yet elegantly written in a jargon-free and accessible style, this book presents a compelling interpretation of the evolutionary origins of spirituality and religion.
Praise For The Illusion of God's Presence: The Biological Origins of Spiritual Longing…
"This book presents a wealth of scientific information and insight to bear on the question of belief in God. Written in an accessible yet well-documented style, it argues that biology and evolution explain the human belief in higher powers. Whether you agree or disagree with John Wathey's conclusions, you will find his analysis fascinating."

— Rebecca Moore, professor emerita and former chair, Department of Religious Studies, San Diego State University; codirector of the Jonestown Institute; and author of Women in Christian Traditions and Understanding Jonestown and Peoples Temple
 

"Religion is a fundamental aspect of human experience; this important and exciting book explores its biological underpinnings. Atheists will applaud. Theists will be irritated, yet intrigued."

— V. S. Ramachandran, Distinguished Professor of psychology and neurosciences and director of the Center for Brain and Cognition, University of California–San Diego; adjunct professor of biology, Salk Institute; and New York Times–bestselling author of The Tell-Tale Brain
 

"I highly recommend John Wathey's insightful book, The Illusion of God's Presence, which contends, 'Knowledge and understanding come not from gut feelings, divine revelation, or sacred texts, but are gradually and painstakingly achieved through reason and evidence.' If only I had understood this when I was eighteen years old, I might not have joined the Peoples Temple death cult. It would take many years of soul searching to come to terms with my misconceptions about God. I look forward to John Wathey's future work."

— Deborah Layton, author of Seductive Poison: A Jonestown Survivor's Story of Life and Death in the Peoples Temple
Prometheus Books, 9781633880740, 463pp.
Publication Date: January 12, 2016
About the Author
John C. Wathey is a computational biologist whose research interests include evolutionary algorithms, protein folding, and the biology of nervous systems. From 1991 to 1995, he was a senior applications scientist at Biosym Technologies (now named Biovia), a company that develops molecular modeling software for the pharmaceutical industry. In 1996, he founded his own business, Wathey Research, and since that time most of his scientific research has been funded by grants from the National Institutes of Health. He is currently writing a follow-up work to The Illusion of God's Presence, which explores in detail the neurobiology of religious emotion and behavior.