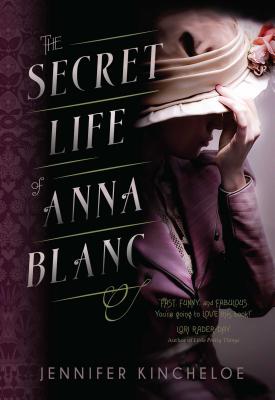 The Secret Life of Anna Blanc (An Anna Blanc Mystery #1)
Paperback

* Individual store prices may vary.
Description
It's 1907 Los Angeles. Mischievous socialite Anna Blanc is the kind of young woman who devours purloined crime novels—but must disguise them behind covers of more domestically-appropriate reading. She could match wits with Sherlock Holmes, but in her world women are not allowed to hunt criminals. Determined to break free of the era's rigid social roles, Anna buys off the chaperone assigned by her domineering father and, using an alias, takes a job as a police matron with the Los Angeles Police Department. There she discovers a string of brothel murders, which the cops are unwilling to investigate. Seizing her one chance to solve a crime, she takes on the investigation herself. If the police find out, she'll get fired; if her father finds out, he'll disown her; and if her fiancé finds out, he'll cancel the wedding and stop pouring money into her father's collapsing bank. Midway into her investigation, the police chief's son, Joe Singer, learns her true identity. And shortly thereafter she learns about blackmail. Anna must choose—either hunt the villain and risk losing her father, fiancé, and wealth, or abandon her dream and leave the killer on the loose.
Praise For The Secret Life of Anna Blanc (An Anna Blanc Mystery #1)…
·        WINNER! COLORADO GOLD AWARD FOR MYSTERY
·        FINALIST:  MACAVITY SUE FEDER HISTORICAL MYSTERY AWARD
·        FINALIST: LEFT COAST CRIME "LEFTY" AWARD FOR BEST HISTORICAL MYSTERY NOVEL
·        FINALIST: COLORADO AUTHOR'S LEAGUE AWARD FOR GENRE FICTION

"Delightful…. Anna is a wonderfully independent character. Fans of Rhys Bowen's Molly Murphy and Kerry Greenwood's Miss Phryne Fisher will become fast friends with Anna Blanc."

—Booklist, STARRED REVIEW

"A humorously delightful historical mystery…. [Anna's] moxie leaves the reader cheering through tears of laughter. It doesn't require Sherlock to deduce that this suspenseful, smart and funny book is a crack debut."

—Shelf Awareness for Readers, STARRED REVIEW

"A fun novel with an I Love Lucy-meets-Agatha Christie adventure."

—RT Book Reviews

"Anna is a delightful young heroine—by turns immensely resourceful and then as wildly impetuous as only a teenager can be. As she dons one false identity after another we get to witness her intelligence and adaptability…. The pace is fast, fun, and furious and will leave your head spinning."

—MysteryPeople

"Jupiter, what a novel! Jennifer Kincheloe brings turn-of-the-century Los Angeles brilliantly to life in a page-turner that is half The Perils of Pauline and half Nancy Drew. Anna Blanc is a delightfully quirky heroine who will leave you begging for a sequel in this wonderful new series."
 
—Lynne Raimondo, author of Dante's Dilemma
 
"A madcap frolic through 1907 Los Angeles, Jennifer Kincheloe's debut mystery is an addictive read. Both hilarious and tragic, with inconstant suitors, cigarette-smoking suffragettes, and sinful painted ladies aplenty, The Secret Life of Anna Blanc transports you back to a City of Angels that few will recognize today (besides the blazing Santa Ana winds). The plot is tight and clever, and the historical research is quite simply remarkable. But most of all, there's Anna Blanc herself. . . . One of the most infectiously likable heroines you'll meet all year."
 
—James W. Ziskin, author of Stone Cold Dead
 
"The best kind of romp: fast, funny, and fabulous. Anna may be innocent of most of life's mysteries as she stumbles toward freedom for herself and justice for those around her, but her heart is in the right place—and she'll steal yours. Jupiter! You're going to love this book!"
 
—Lori Rader-Day, author of Little Pretty Things
 
"Anna Blanc is a character for the ages. Not to be confined by manners—society's demands of perfection, respectability, and restraint for a woman—Anna resists the era she was born into to be fully human and alive. That attitude and spirit alone are worth the read. But it is the attention to historical detail, the spot-on use of 1907 language (I'll be exclaiming 'Biscuits!' from now until forever), and Kincheloe's skilled plotting talent that really [shines]. . . . The Secret Life of Anna Blanc is a brilliant debut that exceeds the expectation of genre and rushes full force, like Anna herself, into one of the best novels that I've read in a long time."
 
—Larry D. Sweazy, award-winning author of See Also Murder and A Thousand Falling Crows
Seventh Street Books, 9781633880801, 367pp.
Publication Date: November 3, 2015
About the Author
Jennifer Kincheloe is the author of The Secret Life of Anna Blanc and The Woman in the Camphor Trunk. The Secret Life of Anna Blanc is the winner of the Colorado Gold Award for mystery and the Mystery and Mayhem Award for historical mystery. The novel was also a finalist for the Macavity Sue Feder Historical Mystery award, Left Coast Crime "Lefty" Award, and Colorado Authors' League Award for genre fiction. Formerly, Dr. Kincheloe was the principal of a health consulting firm and a member of the research faculty for the UCLA Center for Health Policy Research. She currently does research on the jails in Denver, Colorado.