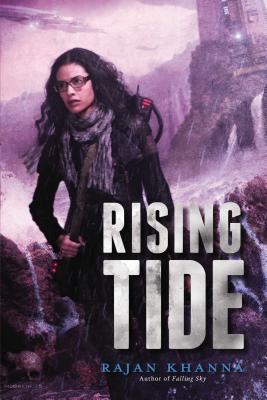 Rising Tide (Ben Gold) (Paperback)
Pyr, 9781633881006, 271pp.
Publication Date: October 6, 2015
* Individual store prices may vary.
Description
Ben Gold sacrificed his ship in an effort to prevent pirates from attacking the hidden city of Tamoanchan. Now Malik, an old friend turned enemy, has captured Ben and Miranda—the scientist Ben loves. With Miranda held hostage, Ben has to do Malik's dirty work. Miranda has plans of her own, though. She has developed a test for the virus that turned most of the population into little more than beasts called Ferals two generations ago. She needs Ben's help to rescue a group of her colleagues to perfect the test—but first they must rescue themselves. When a terrible new disease starts spreading across Tamoanchan and people start dying, it seems there's something more sinister afoot. Then an old enemy attacks. Can Ben fight off the invaders? And will it be in time to save anyone from the disease?
About the Author
Rajan Khanna is the author of Falling Sky and Rising Tide. A writer, narrator, and blogger, his columns and articles regularly appear on Tor.com and LitReactor.com. He has narrated fiction for markets such as Podcastle, Escape Pod, Starship Sofa, Lightspeed Magazine, and Beneath Ceaseless Skies. His short fiction has appeared in Lightspeed Magazine, Beneath Ceaseless Skies, and several anthologies including The Way of the Wizard and Dead Man's Hand (both edited by John Joseph Adams).
Praise For Rising Tide (Ben Gold)…
"A welcome voyage for fans of zombie, post-apocalyptic and steampunk fiction. . . . Rajan Khanna delivers a thrilling sci-fi adventure, in a world full of Feral humans and steampunk airships, with characters readers can truly root for."      
—Shelf Awareness for Readers

"Exciting… [Khanna's] worldbuilding remains solid and unsettling, and he never loses sight of the human element. The cliffhanger ending is sure to leave readers on the edges of their seats, panting for resolution."
—Publishers Weekly

"Thank you Rajan Khanna for a strong and intelligent woman who can hold her own, no matter the situation… there had better be a continuation to this series. I've just got to know what happens next!"
—Geeky Godmother

PRAISE FOR FALLING SKY:

"A cool world with steampunk and zombies combined. . . . The voice is very real and gritty and I felt immersed in the world. Abercombie-edgy and a quick read at that."
—FELICIA DAY

"Falling Sky grabbed me right away and held me to the last sentence. Khanna's book is short, but sharp as a hidden knife. It's a fast ride, scary and twisty-turny, and it also has plenty of airships, zombies, and sarcasm, three of the best things in the world. It's also very well written—terse but punchy, like Hemingway meets The Walking Dead."
—TAD WILLIAMS, author of Sleeping Late On Judgement Day: A Bobby Dollar Novel 

"Fast-paced and fiercely imaginative, Khanna's debut is a different look at a dystopian future."
 —MUR LAFFERTY, author of the Shambling Guides series and winner of the 2012 John W. Campbell Award for Best New Writer

"Falling Sky is a gritty and gripping post-apocalyptic thriller, a noirish blend of Firefly and The Walking Dead—with a dash of Hayao Miyazaki. Welcome aboard the airship Cherub . . . your next stop: adventure!"
—E. C. MYERS, author of Fair Coin
or
Not Currently Available for Direct Purchase