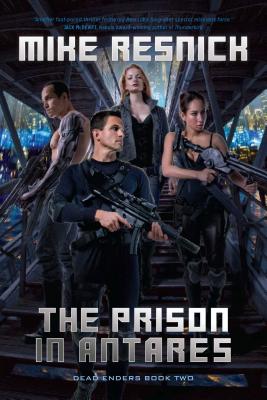 The Prison in Antares (Dead Enders #2)
Paperback

* Individual store prices may vary.
Description
The Traanskei Coalition's greatest weapon is the Q bomb, and after years of failure, the Democracy has come up with a defense against it. The problem is that they killed most of the team that created it. The sole survivor, Edgar Nmumba, was kidnapped by the Coalition. Only Nmumba can duplicate the work fast enough to prevent the loss of another dozen populated planets. Nathan Pretorius and his team of Dead Enders will require all their skills and cunning to rescue him, sane and in one piece, from the Coalition's best-hidden and best-guarded prison, somewhere in the Antares sector. But in a game of cross and double-cross, can they find him before it's too late?
Praise For The Prison in Antares (Dead Enders #2)…
PRAISE FOR THE FORTRESS IN ORION:
 
"This is space opera at its best—simultaneously pulse-pounding and mind-expanding. Resnick is our E. E. 'Doc' Smith, our Edgar Rice Burroughs: he is the twenty-first century's master of excitement and adventure. Enjoy!" —ROBERT J. SAWYER, Hugo Award–winning author of Red Planet Blues

"Mike Resnick is able to write deftly and poignantly about a broad spectrum of characters, exploring vast and colorful landscapes, all wrapped up in a highly entertaining story." —KEVIN J. ANDERSON, New York Times–bestselling author of The Dark between the Stars

"The Fortress in Orion is interstellar intrigue and derring-do of the old school. Dominic Flandry would feel right at home." —ERIC FLINT, author of the 1632 series

"Packed with colorful characters and endless invention, The Fortress in Orion is exciting entertainment that hurls along at nearly the speed of light. Someone should make a movie out of this book!" —NANCY KRESS, award-winning author of Yesterday's Kin

"If you've anything important to do over the next few days, don't even start this." —JACK McDEVITT, Nebula Award–winning author of the Alex Benedict novels
 
PRAISE FOR THE MIKE RESNICK:

"Mike Resnick is a journeyman in a world of apprentices, one who knows his craft. His name on a book guarantees a solid story and believable characters, constructed with imagination and grace. Most important of all, it guarantees entertainment." — RAYMOND FEIST, of the Magician trilogy

"Nobody spins a yarn better than Mike Resnick."  —ORSON SCOTT CARD, Hugo and Nebula Award-winning author of Ender's Game
Pyr, 9781633881020, 302pp.
Publication Date: December 1, 2015
About the Author
Mike Resnick has won an impressive five Hugos and has been nominated for thirty-one more. The author of the Starship series, the John Justin Mallory series, the Eli Paxton Mysteries, and four Weird West Tales, he has sold sixty-nine science fiction novels and more than two hundred fifty short stories and has edited forty anthologies. His Kirinyaga series, with sixty-seven major and minor awards and nominations to date, is the most honored series of stories in the history of science fiction.