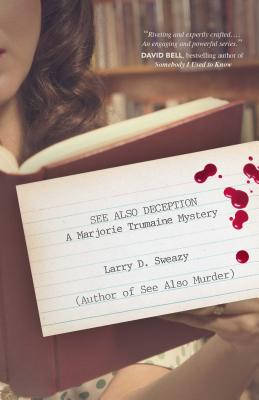 See Also Deception (Paperback)
A Marjorie Trumaine Mystery (Marjorie Trumaine Mysteries)
Seventh Street Books, 9781633881266, 240pp.
Publication Date: May 10, 2016
* Individual store prices may vary.
Description
In a small North Dakota town in 1964, indexer Marjorie Trumaine investigates the alleged suicide of the local librarian, uncovering a web of secrets that puts her own life in jeopardy. October 1964—Just months after freelance indexer Marjorie Trumaine helped solve a series of murders in Dickinson, North Dakota, she is faced with another death that pulls her into an unwanted investigation. Calla Eltmore, the local librarian, is found dead at work and everyone considers it suicide. But Marjorie can't believe that Calla would be capable of doing such a thing. Marjorie's suspicions are further aroused when she notices something amiss at Calla's wake, but the police seem uninterested in her observations. Despite pressing job commitments and the burden of caring for a husband in declining health, Marjorie sets out to uncover the truth. What she finds is a labyrinth of secrets—and threats from someone who will kill to keep these secrets hidden.
About the Author
Larry D. Sweazy is the author of See Also Murder, A Thousand Falling Crows, Escape from Hangtown, Vengeance at Sundown, The Gila Wars, The Coyote Tracker, The Devil's Bones, The Cougar's Prey, The Badger's Revenge, The Scorpion Trail, and The Rattlesnake Season. He won the WWA Spur award for Best Short Fiction in 2005 and for Best Paperback Original in 2013, and the 2011 and 2012 Will Rogers Medallion Award for Western Fiction for the Josiah Wolfe series. He was nominated for a Derringer award in 2007, and was a finalist in the Best Books of Indiana literary competition in 2010, and won in 2011 for The Scorpion Trail. He has published over sixty nonfiction articles and short stories, which have appeared in Ellery Queen's Mystery Magazine; The Adventure of the Missing Detective: And 25 of the Year's Finest Crime and Mystery Stories!; Boys' Life; Hardboiled; Amazon Shorts, and several other publications and anthologies. He is member of ITW (International Thriller Writers), WWA (Western Writers of America), and WF (Western Fictioneers).
Praise For See Also Deception: A Marjorie Trumaine Mystery (Marjorie Trumaine Mysteries)…
"The more you get to know Marjorie Trumaine, the more you will want to know her."

—Reviewing The Evidence
 
"A slice of small town pie, with a side of mystery and murder."

—Geeky Godmother
 
"Marjorie is the kind of gritty heroine, playing the cards she was dealt with pragmatism and intelligence, who will keep readers engaged in this series."

—Killer Nashville

"Brimming with atmosphere and filled with well-drawn characters, See Also Deception is bound to delight mystery readers everywhere. Marjorie Trumaine rings as solid and true as any heroine ever created."
 
—SUSAN CRANDALL, bestselling author of Whistling Past the Graveyard
 
"Welcome to Dickinson, North Dakota, 1964—a place so real you can smell the rakfisk cooking…. Bookish farmwoman Marjorie Trumaine is the ideal amateur sleuth—steely, steady, and in tune with the subtle rhythms of small-town life. Sweazy's perfect pacing, spine-tingling tension, and living, breathing characters make See Also Deception one of the best mystery novels I've read in a long time. You're going to love this book."
 
—JENNIFER KINCHELOE, author of The Secret Life of Anna Blanc
 
"Sweazy's lean writing style and consummate storytelling skills will sweep you up and dump you onto the harsh prairies of North Dakota. The mouth-dropping ending will have you marking the days till Marjorie Trumaine's next case."
 
—DEBORAH MORGAN, award-winning author of the Jeff Talbot Mystery Series and of Junction
 
"The riveting See Also Deception rewrites the rules for small-town mysteries, adding a retro element that evokes times long before cell phones and the Internet. But Larry D. Sweazy's formidably stalwart heroine, Marjorie Trumaine, is still more than up to the task of peeling away layers of secrets and subterfuge in getting to the bottom of a local librarian's death. This is deceptively dark mystery writing par excellence, a potboiler of a tale that proves an able mix of Peyton Place and Agatha Christie."
 
—JON LAND, USA Today bestselling author of Strong Light of Day 


PRAISE FOR SEE ALSO MURDER:
  
 "A dark, complex mystery with well-developed characters deeply rooted in their small-town rural setting. Larry D. Sweazy gives mystery readers a rich, satisfying read."
 
—KAT MARTIN, New York Times-bestselling author of Against the Wind
 

"A  riveting and expertly crafted story…. I couldn't put this book down. It's one of the best mysteries I've read in a long time, and I look forward to more in this engaging and powerful series."
 
—DAVID BELL, award-winning and bestselling author of Somebody I Used to Know