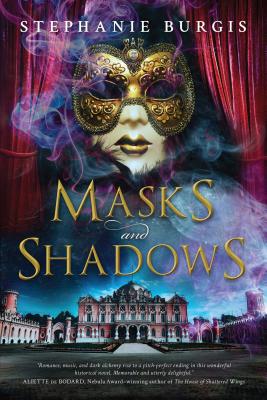 Masks and Shadows
Paperback

* Individual store prices may vary.
Description
The year is 1779, and Carlo Morelli, the most renowned castrato singer in Europe, has been invited as an honored guest to Eszterháza Palace. With Carlo in Prince Nikolaus Esterházy's carriage, ride a Prussian spy and one of the most notorious alchemists in the Habsburg Empire. Already at Eszterháza is Charlotte von Steinbeck, the very proper sister of Prince Nikolaus's mistress. Charlotte has retreated to the countryside to mourn her husband's death. Now, she must overcome the ingrained rules of her society in order to uncover the dangerous secrets lurking within the palace's golden walls. Music, magic, and blackmail mingle in a plot to assassinate the Habsburg Emperor and Empress--a plot that can only be stopped if Carlo and Charlotte can see through the masks worn by everyone they meet.
Praise For Masks and Shadows…
"Romance, music, and dark alchemy rise to a pitch-perfect ending in this wonderful historical novel. Memorable and utterly delightful."
—Aliette de Bodard, Nebula Award–winning author of The House of Shattered Wings
 
"This deftly told and hugely engaging story weaves together the glittering court life of eighteenth-century Europe with a love for music (and Haydn), a thrilling taste of love and politics, and the bitter threat of a deadly magic."
—Kate Elliot, author of Cold Magic and Court of Fives
 
"Elegant and exciting, Masks and Shadows celebrates diversity in taking us to a corner of the fantasy world few have ever visited. Stephanie Burgis plays her magical music with assurance and a profound knowledge that delighted and enlightened me as much as it entertained."
—Ellen Kushner, author of Swordspoint and the Locus Award–winning The Privilege of the Sword

"Terrific. A lush adventure fueled by music and alchemy, and peopled with irresistible characters. Masks and Shadows blends history and magic into a rich, believable love story fraught with royal intrigue. I finished it in one sitting."
—Donna Thorland, author of The Dutch Girl
 
"An intricate, passionate tale of love, difference, and danger. Loved it!"
—Laura Florand, international bestselling author
 
"A delightful tapestry of courtly intrigue, deadly magic, music, and romance. Stephanie Burgis has woven an unforgettable tale, steeped in eighteenth-century atmosphere and full of unique, well-drawn characters. This is a must-read for lovers of historical fantasy."
—Leah Cypess, author of Mistwood
 
"Wonderful setting, fascinating characters, and beautiful music. It truly feels as if the author has lived with the people in that period and has written them from life—magic, demons, angelic singers, and all. I can't wait to read the next. There will be a next? Yes? Please?"
—Judith Tarr, author of World Fantasy Award–nominated Lord of the Two Lands and the Hound and the Falcon series
 
"Passion reigns in this vivid work of alchemy and opera! Burgis conjures a world of dazzling splendor and intrigue, then fills it with a rich cast of characters. Lush descriptions of a baroque past delight the mind's eye while the tension mounts. In this captivating fantasy romance, you can almost hear the music."
—Elaine Isaak, author of The Singer's Crown
 
"Masks and Shadows stole my heart from the very first page. Set against the lush backdrop of a prince's estate and the Habsburg Empire, this is a story rich in music and dark magic, intrigue and romance, finding the courage to be a hero, and discovering that dreams can come true."
—Jaime Lee Moyer, author of Against a Brightening Sky
 
"The story . . . is not just about opera, it actually is an opera. It is filled with passion and drama, evil plots and heroic rescues, spurned wives and pouting mistresses, demon-summoning alchemists, ambitious noblemen, and the most famous castrato singer in Europe. . . . You can practically hear the operatic score as each character steps onstage and each scene progresses."
—Rachel Neumeier, author of The Keeper of the Mist and the House of Shadows series
 
 "A romantic dance of intrigue, wit, and derring-do, Masks and Shadows enthralls from start to finish."
—Justina Robson, author of Glorious Angels and the Quantum Gravity series
Pyr, 9781633881327, 319pp.
Publication Date: April 12, 2016
About the Author
Stephanie Burgis was born in Michigan, but now lives in Wales with her husband, writer Patrick Samphire, and their children. Before becoming a fulltime writer, she studied music history as a Fulbright Scholar in Vienna, Austria, and worked as a website editor for a British opera company. She has published over thirty short stories for adults. Kat, Incorrigible (US)/A Most Improper Magick (UK) won the Waverton Good Read Children's Award in 2011 for Best Début Children's Novel by a British writer. It was followed by Renegade Magic/A Tangle of Magicks and Stolen Magic/A Reckless Magick.
or
Not Currently Available for Direct Purchase