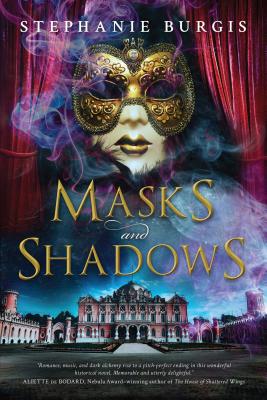 Masks and Shadows (Paperback)
Pyr, 9781633881327, 300pp.
Publication Date: April 12, 2016
Description
The year is 1779, and Carlo Morelli, the most renowned castrato singer in Europe, has been invited as an honored guest to Eszterhaza Palace. With Carlo in Prince Nikolaus Esterhazy's carriage, ride a Prussian spy and one of the most notorious alchemists in the Habsburg Empire. Already at Eszterhaza is Charlotte von Steinbeck, the very proper sister of Prince Nikolaus's mistress. Charlotte has retreated to the countryside to mourn her husband's death. Now, she must overcome the ingrained rules of her society in order to uncover the dangerous secrets lurking within the palace's golden walls. Music, magic, and blackmail mingle in a plot to assassinate the Habsburg Emperor and Empress--a plot that can only be stopped if Carlo and Charlotte can see through the masks worn by everyone they meet.
About the Author
Stephanie Burgis was born in Michigan, but now lives in Wales with her husband, writer Patrick Samphire, and their children. Before becoming a fulltime writer, she studied music history as a Fulbright Scholar in Vienna, Austria, and worked as a website editor for a British opera company. She has published over thirty short stories for adults. Kat, Incorrigible (US)/A Most Improper Magick (UK) won the Waverton Good Read Children's Award in 2011 for Best Debut Children's Novel by a British writer. It was followed by Renegade Magic/A Tangle of Magicks and Stolen Magic/A Reckless Magick.
Advertisement