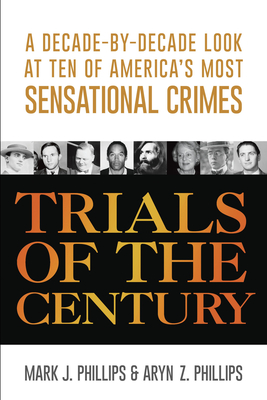 Trials of the Century (Paperback)
A Decade-by-Decade Look at Ten of America's Most Sensational Crimes
Prometheus Books, 9781633881952, 340pp.
Publication Date: July 26, 2016
* Individual store prices may vary.
Description
In every decade of the twentieth century, there was one sensational murder trial that riveted public attention and at the time was called "the trial of the century." This book tells the story of each murder case and the dramatic trial—and media coverage—that followed.

Starting with the murder of famed architect Stanford White in 1906 and ending with the O.J. Simpson trial of 1994, the authors recount ten compelling tales spanning the century. Each is a story of celebrity and sex, prejudice and heartbreak, and all reveal how often the arc of American justice is pushed out of its trajectory by an insatiable media driven to sell copy.

The most noteworthy cases are here--including the Lindbergh baby kidnapping, the Sam Sheppard murder trial ("The Fugitive"), the "Helter Skelter" murders of Charles Manson, and the O.J. Simpson murder trial. But some cases that today are lesser known also provide fascinating glimpses into the tenor of the time: the media sensation created by yellow journalist William Randolph Hearst around the murder trial of 1920s movie star Roscoe "Fatty" Arbuckle; the murder of the Scarsdale Diet guru by an elite prep-school headmistress in the 1980s; and more. The authors conclude with an epilogue on the infamous Casey Anthony ("tot mom")trial, showing that the twenty-first century is as prone to sensationalism as the last century.

This is a fascinating history of true crime, justice gone awry, and the media often at its worst.
About the Author
Mark J. Phillips has been practicing law for thirty-five years with the Law Offices of Goldfarb, Sturman & Averbach in Encino, California. He is also an adjunct professor at the University of West Los Angeles College of Law, where he teaches courses on trusts and estates.

Aryn Z. Phillips holds undergraduate degrees in history and international relations from Emory University and a Masters degree (MPH) from Harvard, where she focused on social and behavioral sciences. She is currently pursuing her PhD in public health at the University of California at Berkeley.
Praise For Trials of the Century: A Decade-by-Decade Look at Ten of America's Most Sensational Crimes…
"Riveting accounts of the ten most-fascinating trials of the twentieth century will keep pages turning compulsively."
 
—JOSEPH WAMBAUGH, bestselling author of The Onion Field

"For trial junkies—and who isn't?—these riveting accounts of ten 'trials of the century,' one from each decade, are a must-read. The stories tell us as much about the history of each decade as they do about the trials themselves."
 
—ALAN DERSHOWITZ, author of Taking the Stand: My Life in the Law
 
"In Trials of the Century, authors Mark J. Phillips and Aryn Z. Phillips (father/daughter) unite their obvious skills as attorney and sociologist respectively as they present eleven of the nation's most-infamous criminal trials. Each of these trials in its own day and time was labeled by the press as 'the trial of the century.' The individual case studies are fascinating, but of greater value is how the authors reveal the hyperbolic role the press played in influencing the verdict in each of these cases, the media often attempting to replace the actual seated jurors by making sensational demands for 'front-page justice.' An informative and mesmerizing read. I highly recommend it."
—Steve Hodel, New York Times–bestselling true-crime author of Black Dahlia Avenger

"A fascinating look at twentieth-century America through ten murder trials that feature a colorful cast from a full cross section of society, from heiresses and celebrities to drifters, dropouts, and a bestselling author. Mark J. Phillips and Aryn Z. Phillips excel in putting these crimes in their cultural and social contexts, using them as a storm gauge for how America, its people, and the public's obsessions have changed across the decades."
—Ross King, author of the New York Times–bestseller Brunelleschi's Dome

"A fascinating, quick read....  I would definitely recommend Trials of the Century to anyone who is interested in high-profile crimes of the last century. It is also a thoughtful book that gives us insight into both the people involved in the cases and the workings of our criminal justice system. I thoroughly enjoyed it."
—Laurie Levenson, professor of law, Loyola Law School

"An engrossing history of some of the most-notorious murder trials of the twentieth century. Expertly researched and vividly recounted, Trials of the Century provides insight into society's fascination with not only ten infamous violent crimes but also the sensationalized criminal trials that followed."
—Trevor W. Morrison, dean, New York University School of Law