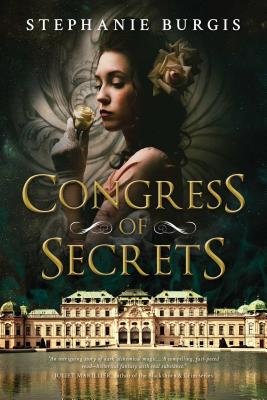 Congress of Secrets
Paperback

* Individual store prices may vary.
Description
In 1814, the Congress of Vienna has just begun. Diplomats battle over a new map of Europe, actors vie for a chance at glory, and aristocrats and royals from across the continent come together to celebrate the downfall of Napoleon…among them Lady Caroline Wyndham, a wealthy English widow. But Caroline has a secret: she was born Karolina Vogl, daughter of a radical Viennese printer. When her father was arrested by the secret police, Caroline's childhood was stolen from her by dark alchemy. Under a new name and nationality, she returns to Vienna determined to save her father even if she has to resort to the same alchemy that nearly broke her before. But she isn't expecting to meet her father's old apprentice, Michael Steinhüller, now a charming con man in the middle of his riskiest scheme ever. The sinister forces that shattered Caroline's childhood still rule Vienna behind a glittering façade of balls and salons, Michael's plan is fraught with danger, and both of their disguises are more fragile than they realize. What price will they pay to the darkness if either of them is to survive?
Praise For Congress of Secrets…
"Congress of Secrets is a feast for the lover of historical fantasy: rich, complex, beautifully researched and engrossingly told. Burgis is a new star of the genre, and I can't wait to see what she does next."
 
—Judith Tarr, author of World Fantasy Award finalist Lord of the Two Lands

"Burgis has created an alternate Vienna shrouded in fear and dark alchemy, political unrest, courage and love. A stunning historical fantasy—highly recommended."
 
—Jaime Lee Moyer, author of Against a Brightening Sky

"Congress of Secrets is a heady mix of politics and alchemy, friendship and betrayal, set against the grand sweep of nineteenth-century Vienna and the aftermath of Napoleon's downfall. This is historical fantasy at its best."
 
—Beth Bernobich, author of The Time Roads

"Intense, vivid, and romantic. A compelling story of intrigue and dark magic in a richly drawn historical setting. Recommended!"

—Laura Florand, bestselling author of The Chocolate Kiss

"An intriguing story of dark alchemical magic among the power brokers of the Napoleonic era. A compelling, fast-paced read—historical fantasy with real substance."
 
—Juliet Marillier, author of the Blackthorn & Grim series

"This is a gripping and enjoyable historical fantasy thriller, with engaging characters scheming for survival and revenge, fighting addictive alchemical magic against the lush background of the 1814 Congress of Vienna. This is a great introduction to Stephanie Burgis's work, and I can't wait for her next book!"
 
—Martha Wells, author of The Books of the Raksura series

"A keen sense of adventure and a sparkling wit combine to make Burgis among the best in the business. She's my go-to writer for pure delight."

—Justina Robson, author of Glorious Angels and the Quantum Gravity series

"Reading [this book] is like eating a piece of rich, decadent chocolate. Filed with intriguing characters in a vivid and alluring setting, Congress of Secrets weaves its own brand of alchemy, drawing you in to 1800s Vienna. I couldn't put it down!"
 
—Sarah Beth Durst, author of The Queen of Blood

"A sumptuous and romantic tale of two ordinary people caught at the confluence of history, politics, and dark alchemy, Congress of Secrets will have you turning pages late at night."
 
—Aliette de Bodard, Nebula Award–winning author of The House of Shattered Wings

"A brilliant historical fantasy brimming with glowing historical detail. I hugely enjoyed this delightful novel's deft interweaving of intrigue, alchemy, and romance, and I can't wait to see what Stephanie Burgis writes next."

—Zen Cho, author of Sorcerer to the Crown

"Congress of Secrets is an alchemical concoction of Vienna, secrets, beautiful prose, and the dark side of the royal court. Highly recommended."
 
—Laura Lam, author of the Micah Grey series
Pyr, 9781633881990, 347pp.
Publication Date: November 1, 2016
About the Author
Stephanie Burgis is the author of Masks and Shadows. She has published over thirty short stories for adults. Kat, Incorrigible (US)/A Most Improper Magick (UK) won the Waverton Good Read Children's Award in 2011 for Best Début Children's Novel by a British writer. It was followed by Renegade Magic/A Tangle of Magicks and Stolen Magic/A Reckless Magick. Born in Michigan, she now lives in Wales with her husband, writer Patrick Samphire, and their children. Before becoming a fulltime writer, she studied music history as a Fulbright Scholar in Vienna, Austria, and worked as a website editor for a British opera company.
or
Not Currently Available for Direct Purchase