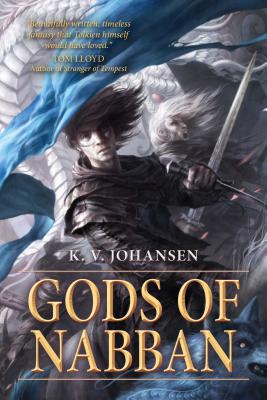 Gods of Nabban (Gods of the Caravan Road #4)
Paperback

* Individual store prices may vary.
Description
The fugitive slave Ghu has ended the assassin Ahjvar's century-long possession by a murderous and hungry ghost, but at great cost. Heir of the dying gods of Nabban, he is drawn back to the empire he fled as a boy, journeying east on the caravan road with Ahjvar at his side. Haunted by memory of those he has slain, Ahjvar is ill in mind and body, a danger to those about him and to the man who loves him most of all. Tortured by violent nightmares, he believes himself mad. Only his determination not to leave Ghu to face his fate alone keeps Ahjvar from asking to be freed at last from his unnatural life. Innocent and madman, god and assassin--two men to seize an empire from the tyrannical descendants of the devil Yeh-Lin. But in war-torn Nabban, enemies of gods and humans stir in the shadows. Yeh-Lin herself meddles with the heir of her enemies and his soul-shattered companion, as the fate of the empire rests on their shoulders.
Praise For Gods of Nabban (Gods of the Caravan Road #4)…
"A lyrical and beguiling fantasy of gods and tortured souls, of grand magics and human frailty. Wonderful books that stand well above your average epic, Johansen's novels are beautifully written, timeless fantasy Tolkien himself would have loved."

—TOM LLOYD, author of Stranger of Tempest

"If you like epic fantasy full of flawed, diverse, bickering characters banding together to heal both their world and themselves, Gods of Nabban has got you covered. If you want a story with compelling, psychologically rich characters and a fascinating setting of empires, nomads, gods, and ghosts, it has all of that. And if you enjoy the pure sword-and-sorcery thrill of watching the toughest SOBs on the planet facing down a ruthless army of evil, it's got that too. K. V. Johansen takes you on a fantastic journey you won't forget."
 
—CHRIS WILLRICH, author of the Gaunt and Bone series

"K. V. Johansen has woven a fabulous epic. Exciting, passionate, and lyrical, with characters that loom larger than life on a grand stage."

—JON SPRUNK, author of The Book of the Black Earth series

"KV Johansen has crafted a captivating world of gods, demons, wizards and warriors. Enriched by a keen eye for character and masterly, lyrical prose this is an insightful look at the corrosive nature of power on the human soul, not to mention featuring some of the best swordfights I've ever read."
 
—ANTHONY RYAN, author of the Raven's Shadow trilogy and The Waking Fire (reviewing Blackdog) 

"Johansen has found a winning combination: the modern epic fantasy penchant for a cast of thousands and the golden age feeling of a tale of Conan or Fafhrd and the Gray Mouser dueling with gods gone mad."
--Publishers Weekly (reviewing The Lady)

"Blackdog is an absorbing story of a man and a goddess on the run, struggling to survive against impossible odds -- all in one can't-put-it-down volume."
--io9 (reviewing Blackdog)

"Her world is full of rich and vivid detail... High fantasy for lovers of mythology and of powerful beings in human form, this adult fantasy debut should appeal to fans of Robert Jordan's "Wheel of Time" series."
--Library Journal (reviewing Blackdog)
Pyr, 9781633882034
Publication Date: September 6, 2016
About the Author
K. V. Johansen is the author of The Lady (Marakand, Volume Two), The Leopard (Marakand, Volume One), and Blackdog, and numerous works for children, teens, and adults. She predominantly writes secondary-world fantasy but is also the author of some science fiction and literary criticism, and of a collection retelling medieval Danish ballads. With an artist friend, she is also working on a manga-style adaptation of a short story set in the Blackdog world. Johansen has an MA from the Centre for Medieval Studies at the University of Toronto. Her lifelong interest in ancient and medieval history and the history of languages has had a great influence on her writing and world building. Occasionally, she masquerades as an editor, freelance journalist, or book reviewer, and dabbles (infrequently) in illustration. She lives in New Brunswick, Canada with a moderately wicked dog.
or
Not Currently Available for Direct Purchase