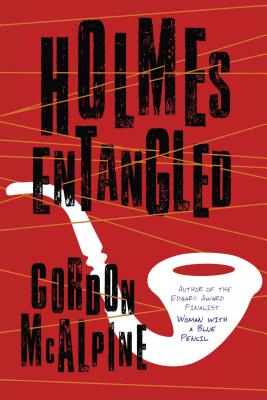 Holmes Entangled
Paperback

* Individual store prices may vary.
Description
From the Edgar®-nominated author of Hammett Unwritten and Woman with a Blue Pencil comes a startling meta-fiction tale told in the voice of Sherlock Holmes. Set in 1920s' London, Cambridge, and Paris, Holmes's final adventure leads him through labyrinths of crime and espionage in a mortally dangerous inquiry into the unseen nature of existence itself. Sherlock Holmes, now in his seventies, retired from investigations and peaceably disguised as a professor at Cambridge, is shaken when a modestly successful author in his late-sixties named Arthur Conan Doyle calls upon him at the university. This Conan Doyle, notable for historical adventure stories, science fiction, and a three-volume history of the Boer War (but no detective tales), somehow knows of the false professor's true identity and pleads for investigative assistance. Someone is trying to kill Conan Doyle. Who? Why? Good questions, but what intrigues Holmes most is how the "middling scribbler" ascertained Holmes's identity in the first place, despite the detective's perfect disguise. Holmes takes the case. There is danger every step of the way. Great powers want the investigation quashed. But with the assistance of Dr. Watson's widow, Holmes persists, exploring séances, the esoterica of Edgar Allan Poe, the revolutionary new science of quantum mechanics, and his own long-denied sense of loss and solitude. Ultimately, even Sherlock Holmes is unprepared for what the evidence suggests.
Praise For Holmes Entangled…
"It's hard to create a thrilling narrative using an over-used character like Sherlock Holmes. . . unless you are Gordon McAlpine. The brilliance of the work done by McAlpine in this novel is that he has constructed a conventional mystery and yet has also included interesting elements from science and other genres. . . .Traditional mystery needs more authors like Gordon McAlpine: Authors who can take enduring characters and narratives, polish them and give them a new beautiful face. This is a highly recommended title."

─Mystery Tribune

"Sherlock Holmes is not who you think he is. In this brilliant imagining by Gordon McAlpine, Holmes must battle for his very existence, with the world as we know it at stake. Prepare to have your mind blown!"

─Leslie S. Klinger, editor of the Edgar® Award-winning New Annotated Sherlock Holmes

"The most post-modern take on Sherlock Holmes since Chabon's The Final Solution. McAlpine's work is perfect for those who enjoyed the Will Ferrell film Stranger Than Fiction, but wished it wasn't a comedy."

 ─LitHub

"A joy to read from start to finish. McAlpine has crafted a thrilling, believable rendering of our beloved detective in his twilight years. I can't recommend this novel enough."

—Mitch Cullin, author of A Slight Trick of the Mind, the basis for the film Mr. Holmes

"It's to author McAlpine's credit that he makes what might have been an arch exercise into a joy to read…. It's a fascinating read, smart and entertaining for all that it's based on those quantum mechanics. That's right, it's Holmes confronting alternate universes, and it's wonderful."
 —Booklist starred review

PRAISE FOR WOMAN WITH A BLUE PENCIL:

"A brilliantly structured labyrinth of a novel--something of an enigma wrapped in a mystery, postmodernist in its experimental bravado and yet satisfyingly well-grounded in the Los Angeles of its World War II era. Gordon McAlpine has imagined a totally unique work of 'mystery' fiction--one that Kafka, Borges, and Nabokov, as well as Dashiell Hammett, would have appreciated."
—JOYCE CAROL OATES

"McAlpine's creative talent is rare and this novel is an exceptional literary treat."
—Shelf Awareness STARRED review

"A masterpiece of metafiction....I don't know the last time I read a book that made me think that much AND had that good of an ending."
—MysteryPeople PICK OF THE MONTH

PRAISE FOR HAMMETT UNWRITTEN:

"A refreshing, brisk, yet fully and brilliantly realized work... that is nearly perfect and manages to pay homage to Hammett's celebrated work, while still being an incredibly engaging read for the uninitiated.... [An] inspired tale that delivers as expertly drawn meta-fiction and a compelling mystery."
—Reviewing the Evidence

"This mash-up of biography and mystery novel is fascinating.... An engaging, highly imaginative book."
—Mystery Scene
Seventh Street Books, 9781633882072
Publication Date: March 6, 2018
About the Author
Gordon McAlpine is the author of Woman with a Blue Pencil and Hammett Unwritten and numerous other novels, as well as a middle-grade trilogy, The Misadventures of Edgar and Allan Poe. Additionally, he is coauthor of the nonfiction book The Way of Baseball, Finding Stillness at 95 MPH. He has taught creative writing and literature at U.C. Irvine, U.C.L.A., and Chapman University. He lives with his wife Julie in Southern California.
or
Not Currently Available for Direct Purchase