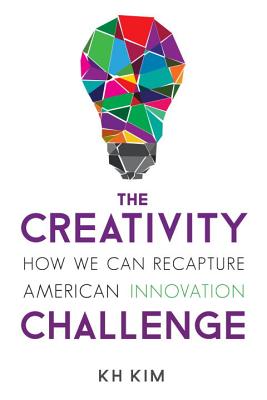 The Creativity Challenge (Paperback)
How We Can Recapture American Innovation
Prometheus Books, 9781633882157, 351pp.
Publication Date: September 13, 2016
* Individual store prices may vary.
Description
American creativity has steadily declined since 1990. That disturbing trend recently came to light through the work of leading educational psychologist KH Kim, a recognized expert in creativity assessment. In this insightful and inspiring book, Kim discovers the causes of the decrease in creativity and proposes methods of recapturing American creativity in education, in industry, and throughout every sector of society.
    
Through the life stories of innovators, Kim debunks the assumption that creative people must be born with innate talents. She shows how parents, educational methods, and cultures shaped innovators' creative expression. As her research clearly indicates, cultural climates and attitudes (including over-reliance on standardized testing) often work against innovation unless creativity is deliberately grown and developed.
    
Culminating over twenty years of extensive research, Kim has devised original models to identify creativity in people and organizations and help it to blossom. Gardening metaphors illustrate simple but powerful steps to transform creative potential into innovation. She emphasizes practical steps to cultivate creative climates (environment) in schools, in homes, and at work; nurture creative attitudes (personality) toward learning, work, and life; and apply creative thinking skills. Kim's models for creativity are complemented with evidence-based methods to learn and practice creative skills in everyday life.
About the Author
KH Kim is an award-winning professor of educational psychology at the College of William & Mary. Her research study titled "The Creativity Crisis" was the subject of a 2010 Newsweek cover story that caused widespread concern. Numerous news outlets have since sought her expertise, including the Washington Post, the Wall Street Journal, U.S. News & World Report, NPR, and others. Kim is the co-editor of Creatively Gifted Students Are Not Like Other Gifted Students: Research, Theory, and Practice. She is the co-editor of the World Journal of Behavioral Science and the author of numerous articles in professional journals. She serves on the editorial board of the Creativity Research Journal and also the Psychology of Aesthetics, Creativity, and the Arts. She is the Creativity Network Chair of the National Association for Gifted Children and advises the Torrance Center for Creativity and Talent Development. She is the CEO of Nebulys Technologies and the co-inventor of high-tech biomedical systems, currently developing creativity assessment technology (patents-pending).
Praise For The Creativity Challenge: How We Can Recapture American Innovation…
"The Creativity Challenge deals directly with one of the most critical problems facing not just the United States but also the entire world: nurturing the creativity so essential to our modern times. KH Kim not only is up to the challenge but also displays considerable creativity in meeting that challenge."
—DEAN KEITH SIMONTON, Distinguished Professor of Psychology, University of California—Davis, and editor of The Wiley Handbook of Genius
 
"Intelligence by itself is overrated. What the world desperately needs, in order to cope with the rate of change and complexity, is to nurture and engage the creative power of all people. This book will likely start a creativity revolution in America—and level the playing field for solving complex problems throughout the world."
—WENDY LUHABE, social entrepreneur, economic activist, and author of Defining Moments
 
"This fascinating book is both a personal and a provocative take on creativity and innovation. There's something of interest for everyone here."
—JAMES C. KAUFMAN, professor of educational psychology, University of Connecticut, and author of Creativity 101
 
"Kim's unique approach describes the different climates and attitudes that enable creative-thinking skills and exactly how to cultivate and nurture them. The Creativity Challenge is a remarkably powerful and effective tool for anyone who wants to build innovation in any aspect of their life—and for the long-term competiveness of our nation, and the world."
—PETER ECONOMY, Inc. columnist and bestselling business author
 
"With practical advice and charm, KH Kim gives hope to parents, educators, adults, and even organizations, that creativity can be improved. It's time to support the passions of the 'troublemaker' in all of us—and help people turn these passions and proclivities into products that can change the world for the better. The Creativity Challenge shows us how."
—SCOTT BARRY KAUFMAN, Scientific Director of the Imagination Institute
 
"The Creativity Challenge is inspiring, insightful, and instructional for parents, educators, and businesses alike, and it provides tangible methods and ideas to cultivate the creativity within all of us. The 4S method is one of the more compelling metaphors I've ever heard and is incredibly useful in uncovering ways to maximize creativity."
—DARREN PAUL, cofounder, Inkboard